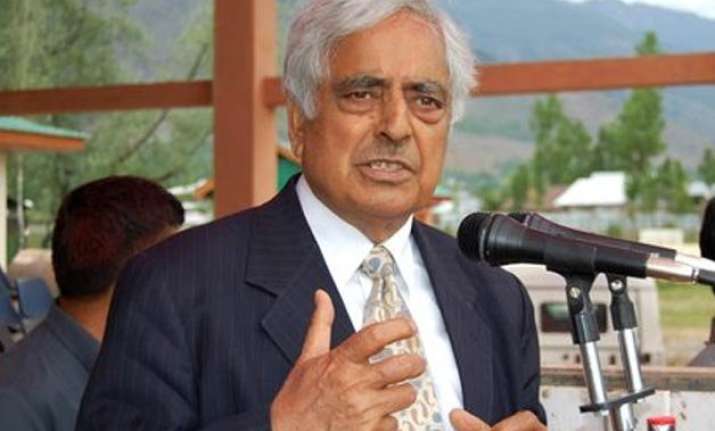 Jammu: National Conference in Jammu and Kashmir today asked ruling PDP to clear its stand on Armed Forces Special Powers Act (AFSPA) and citizenship rights to West Pakistan refugees while alleging that alliance partners PDP and BJP had opposing views on the crucial issues.
"The ambiguity and contradictions between the two parties, which have surfaced during the past two days, have created fissures in the coalition even before its formal take off," according to a joint statement issued by newly-elected NC MLAs and MLCs here today.
The inherent contradictions between the two have surfaced on the very take-off day itself, which speak of the contours of governance Jammu and Kashmir is poised to get in days to come, they said.
This, they said, will plunge the state to political uncertainty instead of steering it to peace, progress and development, which had been core of governance during the past six years.
"This is imperative because of the divergent political thoughts being pursued by BJP and PDP, which apparently are poles apart unless there is a hidden common agenda," they said.
They said that the two parties should not take the politically sagacious people of Jammu, Kashmir and Ladakh for granted, as they are well placed to read between the lines.
In this context, they referred to the statements of the Chief Minister Mufti Mohammed Sayeed immediately after taking over the reigns of government in the state and the Prime Minister Narendra Modi in Rajya Sabha today.
They said the coalition partners seem to be more interested in scoring point over one another than taking forward the developmental initiatives and sustaining peace.
 
The legislators said that Jammu and Kashmir will not be allowed to become a political laboratory for PDP and BJP to settle their political score.
"We will not allow derailing of the peace initiatives and developmental effort which formed the core of Omar Abdullah government," they maintained.
Describing PDP-BJP's 'Agenda of the Alliance' as a bunch of deception and contradictions, the MLAs said in fact it is an arrangement of convenience to get glued to power.
They said during the past six years when National Conference pitched for revocation of AFSPA, PDP showed total indifference in a bid to placate their masters and when elections neared they pretended to be its pioneers.