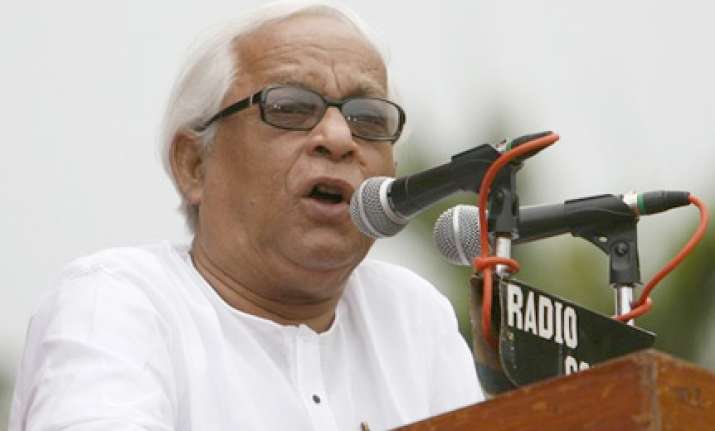 West Bengal Chief Minister Buddhadeb Bhattacherjee on Friday in Kolkata slammed the Railways for not naming the Maoists in the FIR lodged for the Rajdhani Express hijack drama on October 27 and alleged that Trinamool Congress was in cahoots with Naxals in an attempt to dislodge the Left Front government.
 "The CRPF named the Maoists and the group backed by it in the FIR. Why not the Railways? It is ridiculous that the Railways have said that they did not know who did it," Bhattacharjee told a Left Front rally.
  "Chhatradhar Mahato's outfit PCPA, which is a creation of the Maoists held up the Rajdhani, but the names of the outfit did not figure in the Railways FIR," he said without naming Railway Minister and Trinamool Congress Chief Mamata Banerjee.
 The Railways, he alleged, were trying to shield the Maoists and the group backed by them.  "The Trinamool Congress is working with the Maoists to finish the Left Front. They think that they would be able to dislodge the Left Front government by joining hands with Maoists. We will unmask the Trinamool and the Maoist. We take up the challenge," he said.
When there was violence in Nandigram over land acquisition, Trinamool Congress and Maoists worked in tandem. Violence continued there even after we decided not to acquire land. Can the Trinamool Congress deny that they had no link with Maoists in Nandigram?" Bhattacharjee asked. 
Without naming the Trinamool Congress chief, he said "the Trinamool Congress leader once shared the dais with Chhatradhar Mahato. The Trinamool Congress did not believe us when we said that the PCPA was a Maoists outfit."
Bhattacharjee's comments came a day after Union Home Minister P Chidambaram hit out at the CPI(M) for seeking to link the Trinamool Congress chief to the Rajdhani Express hijack saying the charges were "baseless".
The Railways had filed an FIR filed at the Jhargram police station on October 27 naming "unknown miscreants" for the train holdup, while the CRPF in its FIR, filed on the same night, had named the PCPA and Maoists for firing on the police when they went to the rescue.
 Bhattacherjee said a "complex situation" was prevailing in Maoist-affected West Midnapur, Bankura and Purulia districts where the ultras were indulging in violence, attacking police stations and government offices. PTI