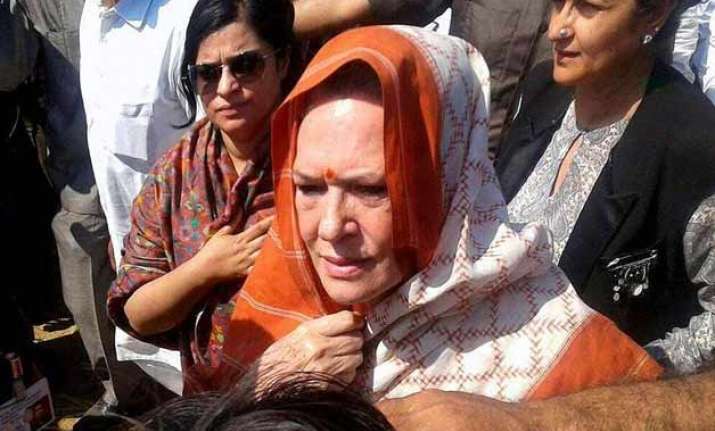 New Delhi: Congress President Sonia Gandhi today attacked Prime Minister Narendra Modi for his "blatant U-turn" on the issue of transparency, charging his government with "deliberately" keeping key posts of Chief Information Commissioner, CVC and Lok Pal vacant.
Accusing the BJP dispensation of attempting to "subvert the RTI Act", she said citizens no longer have right to question the government as top offices like the PMO, Cabinet Secreteriat besides the Supreme Court, High Courts and CAG are no longer accountable for violations under the RTI and protected from public scrutiny.
Gandhi had sought to bring an adjournment motion on the issue in the Lok Sabha but was allowed to raise it after the question hour.
The Congress President lamented that the CIC post was lying vacant for over eight months and the posts of three Information Commissioners for over a year, resulting in the backlog of 39,000 cases.
"Information delayed is information denied. This is simply not acceptable. Protecting wrongdoers cannot be part of any government ethos," she said, recalling Modi's promises of transparency and good governance.
"In a blatant U-turn, his government has made sure," she said, "the offices of the PMO, Cabinet Secretariat... are no longer accountable. ... It points to a clear attempt to avoid transparency and subvert the RTI," she said, adding that the landmark law brought by the UPA empowered millions of people.
More than half of the information commission's offices in the country lack infrastructure which, she said, suggesting that the Centre was trying to systematically subvert the RTI.
She also raised the issues of the Lokpal's post remaining vacant and the Whistleblower's Bill not being notified despite getting the President's assent in May 2014, and took a dig at the government saying it has otherwise shown "extraordinary urgency" in pushing bills.
Government rejected her charge, as Minister of State in the PMO Jitendra Singh said the CVC post was not yet fulfilled as the Supreme Court was overseeing the matter while a search committee was close to shortlisting candidates for the CIC's post, applications for which were publicly invited by the government in the "interest of transparency".
Dissatisfied Congress members walked out of the House as Singh insisted that that posts of information commissioners had remained vacant even during the UPA's term and urged the opposition to hear the facts "keeping political interests aside".