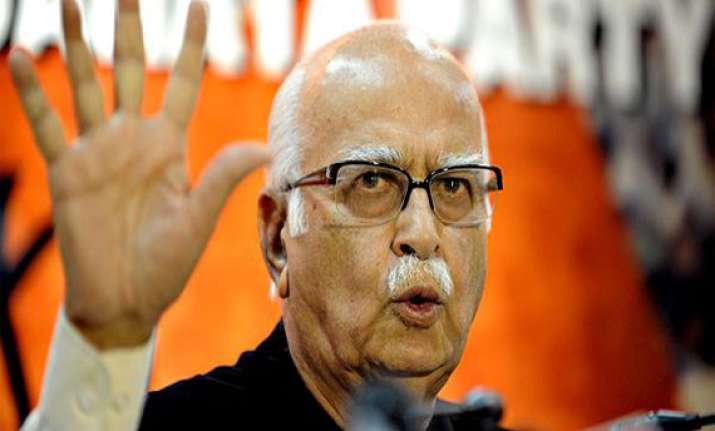 Ahmedabad, Dec 12: Senior BJP leader L K Advani  on  Tuesday said the ruling party in Gujarat under Narendra Modi would complete the hat-trick of victories in this Assembly elections.
"Gujarat elections 2012 are very important because not only the entire country but even the world is eagerly watching their outcome. I am confident that BJP will win the Assembly elections and complete the hat-trick of poll victories," the veteran leader said while addressing an election rally in Ranip area of the city.
The campaigning for the first phase of elections to be held on December 13 ended today.
Praising the Chief Minister, Advani said, "Modi has provided good governance in the state. His development politics is backed by discipline, honesty and will-power in decision-making."
In a veiled attack on Samajwadi Party and Bahujan Samaj Party, who walked out of Parliament and voted in favour of FDI in multi-brand retail, respectively, Advani said, "BJP always backs its words with actions unlike other parties who, despite their opposition to FDI, supported the Union government."
Reiterating that he had asked other states to "imitate" Gujarat model, the former union home minister said "Villages in Gujarat receive power and water and girl education is also improving in rural areas."
Interestingly, Congress general secretary
Rahul Gandhi
raised the issue of water scarcity in one of his election rallies in the state.
Highlighting the importance of voting, Advani said the BJP government was trying to make voting compulsory by passing a bill, but the Governor is yet to sign it. "I had even asked the Prime Minister to look into the matter," he added.
Advani urged youths to work for making India the best country on all fronts in the 21st century.
BJP has fielded Arvind Patel from Sabarmati Assembly constituency against Congress' Bharat Patel.