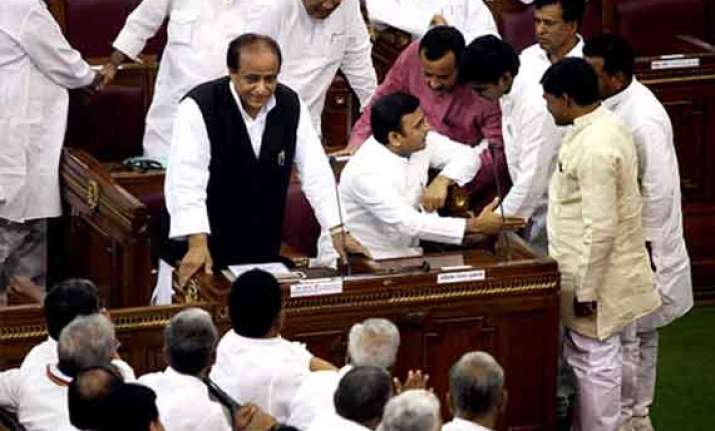 Lucknow: BJP today staged a walkout in the Uttar Pradesh Assembly during the question hour alleging that government has no will power to check the rising rate of crime in the state.
To a question by BJP MLAs Suresh Kumar Khanna, Laxmikant Bajpai and Dalbir Singh of RLD on whether the government has any effective policy to check rising crime in the state, Parliamentary affairs minister Azam Khan on behalf of the Chief Minister Akhilesh Yadav gave an account of the steps initiated by the government.
Khanna in his supplementary question said that police stations in the state were not functioning in a judicious manner while Laxmikant Bajpai said that 86 cases have been reported after the Badaun incident.
Bajpai further asked for the effectiveness of the 1090 helpline service for women, the ambitious scheme of Akhilesh Yadav launched to check crime against women.  
Khan, in his reply, said that government is sensitive towards this problem and for better working of police stations it has to be ensured that SIs and constables on duty do not consume liquor.
Presenting the figures of the National Crime Records Bureau, Khan said Uttar Pradesh was placed at 25th, Madhya Pradesh at third and Rajasthan at fourth in crime rate and also cited crime figures of the state under the regime of Mayawati, Rajnath Singh and Kalyan Singh.  
There were some heated exchanges with Khan who asked the BJP to look at rape and other crimes taking place in BJP-ruled Rajasthan and Madhya Pradesh and pointed out that a central minister was facing rape charges and a BJP Chief Minister was faced with inquiry.
BJP MLA Satish Mahana alleged that government has lost its hold and has no will power to deal with the problem and staged a walkout.