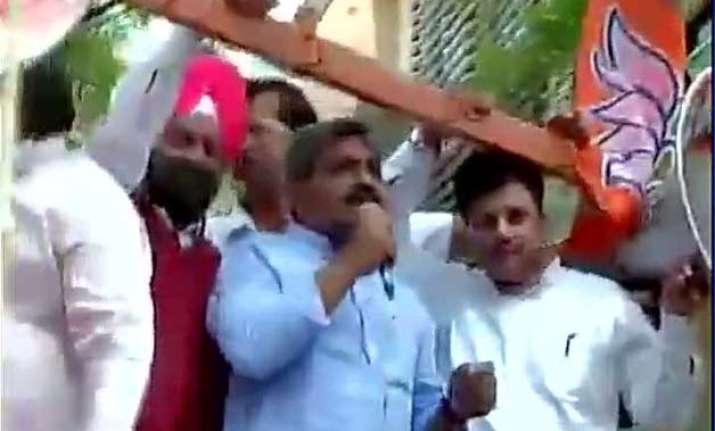 New Delhi: Bhartiya Janata Party workers today staged a protest outside Delhi Chief Minister Arvind Kejriwal's residence against Law Minister Jitender Singh Tomar over his alleged fake law degree.
Yesterday, a Bihar-based university told the Delhi High Court that Tomar's provisional certificate is 'fabricated and does not exist in the institution's record'. Later in the day, Kejriwal summoned him to know his side of story.
Both the Congress and the BJP have demanded Tomar's resignation.
While protesting outside Kejriwal's residence, Delhi BJP Chief Satish Upadhyay said that the Delhi Government has fooled the people of Delhi.
"The way in which a Minister of the Delhi Government is sitting with a fake degree, we have no option but to come out on the roads," he added.
"You (CM Kejriwal) said you would chuck anyone out of party if seen indulging in wrong-doing, why aren't you doing this now?," asked Upadhyay.
Tomar is facing criticism since the time of filing nomination papers in run-up to the Delhi polls earlier this year. At that time he had contended that the petitioner produced fake documents in the High Court challenging his educational qualifications.
The Bar Council of Delhi also told the court that it had initiated an inquiry into the issue and the matter is pending before it. To this the court asked bar to complete the proceedings expeditiously.
The court would hear the plea next on August 20.
Tomar will lose his membership from Vidha Sabha if court founds that the degree produced by him is fake.