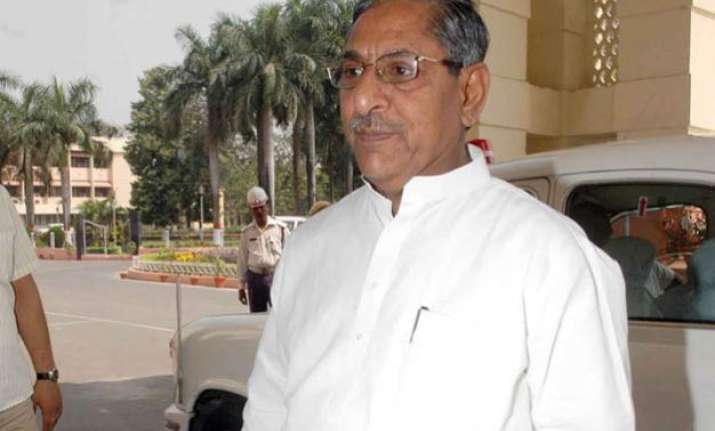 Patna: With BJP seems not clear on whether to project Sushil Kumar Modi as its chief ministerial nominee in Bihar or go for the Assembly elections without declaring any CM candidate, senior party leader Nand Kishore Yadav today said the matter would be decided by the party's Parliamentary Board.
"BJP president Amit Shah has already made it clear that the decision regarding whether to project somebody in the elections or not, and if yes, who will be that person, will be taken by the Parliamentary Board," Yadav, Leader of Opposition in the Legislative Assembly, told reporters.  
Sushil Modi, a senior Bihar BJP leader and a former deputy chief minister, was virtually endorsed as the party's chief ministerial face in the next state Assembly polls by Union Urban Development Minister M Venkaiah Naidu on Friday last at a function to celebrate the completion of 25 years of Sushil Modi's parliamentary career.
"The people of Bihar are fortunate that they have a leader like Sushil Modi with a spotless political life. One Modi at the Centre and another Modi at the helm in Bihar will be good for the state and its people. They should support such a leadership," Naidu had said.
But media reports quoting sources in the BJP said the party was not in favour of declaring a name in Bihar ahead of the elections.
Yadav said not much meaning should be derived from it (Naidu's assertions).
"It was a different kind of function and on such occasions speakers generally say kind words about the person concerned," Yadav, who was the convener of NDA and a senior minister in the Nitish Kumar-led JD(U)-BJP government, said.  
When news about the virtual endorsement of Sushil Modi's candidature was doing the rounds, LJP President and Union Minister Ramvilas Paswan, an ally of BJP, had said his party would go with the BJP's decision on the issue.