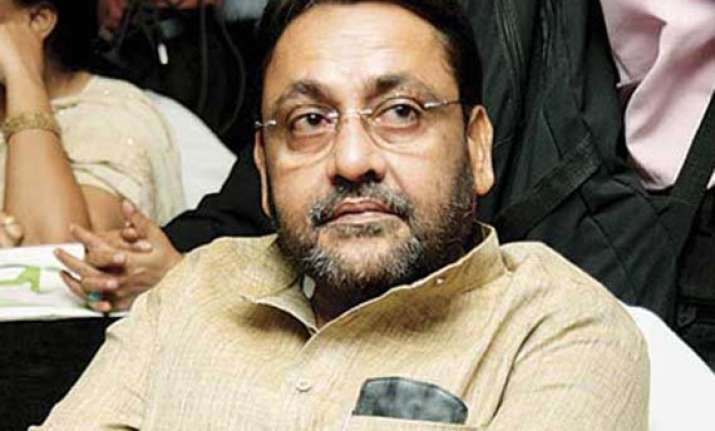 Mumbai: Falling short of a majority, BJP is emerging as the largest party in Maharashtra assembly and Shiv Sena is finishing second, triggering conciliatory noises from the two former allies over government formation but each appeared to be waiting for the other to blink first.
In its maiden outing without the crutches of Shiv Sena in 25 years, BJP was way ahead of rivals with 16 seats in its kitty and its candidates leading in 106 constituencies in the 288-member Assembly, short of the half way mark of 144.
Shiv Sena, though second in the race, was far behind with its nominees winning 12 seats and ahead in 43.  Congress, which along with NCP ruled the state for 15 years in a row, looked set for a major debacle with the likelihood of finishing behind its former ally.
The party has pocketed 10 seats and is leading in 31, while NCP has secured 8 seats and its candidates are ahead in 37 constituencies.
Of the 52 seats declared so far, CPI-M, MNS, All India Majlis-e-Ittehadul Muslimeen and Bahujan Vikas Aaghadi have won one seat each, while independents have bagged two.
In a major setback for Congress, its campaign committee chief and former Chief Minister Narayan Rane lost to Shiv Sena candidate Vaibhav Naik in Kudal.
Former Chief Minister Prithviraj Chavan of Congress, NCP leader and former Deputy Chief Minister Ajit Pawar were, however, leaving in Karad South and Baramati. A top Congress Minister Harshwardhan Patil was trailing in Indapur.  Owning moral responsibility for the rout, state Congress chief Manikrao Thakre resigned.
"People have given us a mandate to play the role of opposition, and we will be a constructive opposition," he said.
With BJP certain be the winner but failing to secure a majority on its own, its leaders including state party chief Devendra Fadnavis have said the the chief minister's post will go to the party.
"People have given us the responsibility and we will do whatever is needed to fulfil that responsibility. The government will led by us," BJP MP from Mumbai Kirit Somaiya told a press conference.
There has been speculation that Shiv Sena could demand chief ministership as a condition for the reunion with BJP to form government despite the latter emerging as the largest party. However, the estranged former allies appeared willing to bury the hatchet.
"Once they (BJP) submit a proposal for a stable government in the interest of Maharashtra, Sena president Uddhav Thackeray will take a decision, whatever that may be, after considering all factors," Sena MP Anil Desai said.
"We have no bitterness. If there is a proposal, we will consider it," Desai, who was part of the failed seat-sharing talks with BJP ahead of the Assembly poll, said. Desai also said that barring the current election, the two parties have been together "through thick and thin".
Union Minister Piyush Goyal, when asked about the two parties coming together, said Shiv Sena representative in the Union Cabinet Anant Geete continued to hold his post.  "Only we were not able to come to terms in the number of seats (each party will contest)," he said.
"Shiv Sena has never been our political opponent. We have never said anything against them, we never criticized them in our campaign," Fadnavis said as trends showed BJP will have to look for allies to form the first-ever government led by the party in Maharashtra but remained non-committal on whether it will seek Sena's support.  There appeared to exist conflicting views on whether BJP should approach the Sena and seek its support for government formation.
 
Asked if BJP, having emerged the largest party, will show magnanimity in extending the olive branch to the Sena, Goyal said," Prime Minister Narendra Modi has always shown magnanimity, never criticised Shiv Sena (during the campaign)."
However, BJP's observer for the poll Om Mathur, struck a tough posture, saying,"We are the bigger party, why should we make a call (to Sena), we will get a call." Fadnavis said BJP's central Parliamentary Board is meeting in Delhi this evening to decide on government formation.