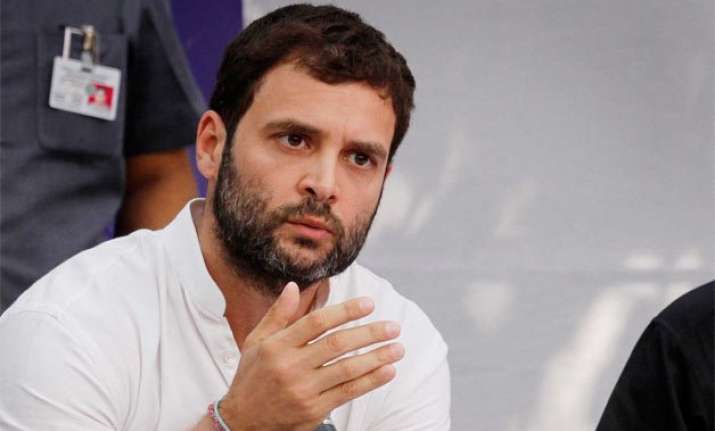 New Delhi:  BJP today hit back at Congress Vice-President Rahul Gandhi for targeting Prime Minister Narendra Modi on the farmers issue, and accused him of running an "anti-growth and anti-development campaign" against the government to create a negative atmosphere.  
BJP said Rahul's pro-active approach in hitting out at the government is to reclaim his own lost ground which he is doing with the help of lies.
The party also questioned Rahul on what the Congress-led UPA regime did for the farmers in the last decade.  "Rahul Gandhi is doing so to find his lost ground and political relevance, for which he taking the support of lies.  
The farmers want to know from him what he or his Congress government did for resolving their problem in the last decade, which has been inherited by the NDA.
"He is running a campaign that is anti-growth and anti-development to create a negative atmosphere against the government," BJP national secretary Shrikant Sharma said.  
He said while rating agencies are predicting a high growth rate for India in the coming times and a positive atmosphere has been created the world over in favour of the country, the Congress Vice-President is trying to negate all achievements.
The BJP leader also said that by turning active, Rahul is also trying to address the internal problems within the Congress and hold his losing ground.
He said while India was viewed as a weak nation during UPA-I and II, the atmosphere has turned very positive for India the world over under Prime Minister Narendra Modi's leadership.
Rahul targeted Modi and accused him of going back on his poll promises to farmers, as he kicked off a 15-km padyatra in Telangana to reach out to the agrarian community.  
"When the unseasonal rains came and when there was hailstorm, Modi did nothing," the Congress Vice President said, while addressing farmers in the region which has witnessed a spate of suicides due to agrarian distress.  
Rahul also criticised the controversial land acquisition bill brought by the Modi dispensation, alleging that it will "spell doom for farmers" as the government has taken away key provisions like social audit.