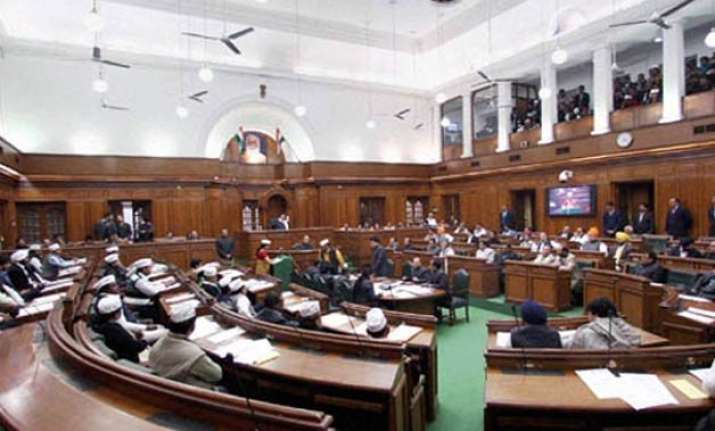 New Delhi: The recommendations of a committee constituted by the Delhi Assembly Speaker to allow a whopping two-and-half fold increase in the salaries of Delhi MLAs, were today slammed by the BJP and Congress who accused the AAP government of being "khaas aadmi ki sarkar".
While Delhi BJP chief Satish Upadhyay and Leader of Opposition Vijender Gupta termed the recommendations as "shocking", scores of Congress workers staged a protest against the move outside Chief Minister Arvind Kejriwal's residence.
"The government doesn't have funds to give pension, no funds to give salary to sanitation workers. But it is shocking that they want to raise the salary of MLAs to the level thatit will now supersede MPs' salary also. If the recommendations are accepted, the Delhi govt will face an additional burden of Rs 20 crore per year," Upadhyay told reporters here.
Criticising the committee's recommendation of an increase in the salary from present Rs 88,000 to Rs 2.10 lakh per month, Opposition leader Vijender Gupta said the committee was built on a prejudice agenda and the outcome was a forgone conclusion.
"The committee was a sham and nothing else. The decision of hike in MLAs salary was taken well before the committee was formed. How can a committee talk about the the salary of MLA alone, and not (of the) Councillors? "AAP has 67 MLAs out of total 70. MCD is facing a
financial crisis. The government should lend a helping hand, and here they are busy discriminating between the two," he said.
Senior Congress leader Ajay Maken termed the AAP Government as "Khas Aadmi Ki Sarkar" and said the recommendations of such a hike in salary of the MLAs, goes against the principles that the AAP Government supposedly professes.
The party workers protesting outside the CM's residence alleged that widows and senior citizens have not received their pension since 15 months and MLAs are getting huge salary hikes.
"While the AAP government claimed to be the common man's government but all they are thinking about is their MLAs. They do not have money to pay the pension of widows and senior citizens pending since 15 months and the legislators getsalary hikes," a protester said.
The three-member committee chaired by former Secretary General of Lok Sabha PDT Achary, in its report submitted to Assembly Speaker Ram Niwas Goel, has favored a 400 per cent hike in basic salary of MLAs from Rs 12,000 to Rs 50,000 per month.
Overall, the hike recommended has been 138 per cent.
In July, a group of AAP legislators had demanded a significant hike in salary, arguing their earnings were not enough to run their family and offices.