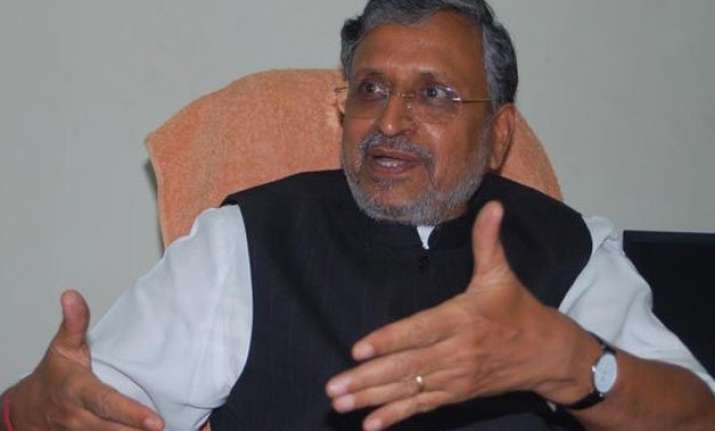 Patna: BJP today alleged a scam worth several crores of rupees in purchase and distribution of electricity transformers across Bihar and demanded a probe either by Central Vigilance Commission (CVC) or Accountant General failing which it would approach the Patna High Court.  
"A huge scam worth several crores of rupees is happening in the state in the purchase of electricity transformers and some of their components. So far the state has lost Rs 37 crore in the purchase of equipments worth Rs 93 crore," senior BJP leader and former Deputy Chief Minister Sushil Kumar Modi told reporters here.  
Modi showed documents to media persons and pointed out how a distribution transformer which was being supplied in Patna district at Rs 1.04 lakh, was being charged Rs 1.46 lakh in Arwal district and Rs 1.6 lakh in Buxar district.  
"Similarly, equipment used with transformers like 'ACSR conductors' are being supplied by contractors in Jehanabad and Arwal districts at Rs 2,734 and in Bhagalpur at Rs 16,500 and in Buxar at Rs 26,000. Another equipment 'AB Switch' is being provided at Rs 7,723 in Patna district, and at Rs 21,073 in Jamui and Rs 58,000 in Bhagalpur district," Modi said.
He also pointed out that Pre-Stressed Concrete (PSC) poles to install transformers were being supplied at Rs 2,104 each in Patna district and at Rs 4,924 in neighbouring Arwal and Jehanabad districts.
Alleging that the state government has flouted the norms with "malafide intentions", Modi said, "We demand a probe in the entire matter either by Central Vigilance Commission or by the Accountant General. If it is not conducted, we'll file a writ (petition) in the Patna High Court."
 
Modi said the scam originated soon after the state government invited tenders in December 2014 to install 63 KVA transformers at a cost of Rs 333 crore.
No transformer manufacturing company participated in it, he said.
The senior BJP leader claimed that instead of calling for tenders again as mandated by the rules, the state government nominated contractors in March 2015 and released Rs 93 crore in the first phase of the work.
"Calling for tenders again is mandatory in such a situation. How could the government nominate companies for such a project involving billions of rupees and that too when these companies are not manufacturers, but just contractors?" Modi asked.
Bihar Finance and Energy Minister Bijendra Yadav and Energy Department Secretary Pratyaya Amrit have refuted the allegations of scam in the purchase of transformers and said the rates were the same as charged by suppliers in a tender put out in 2012.