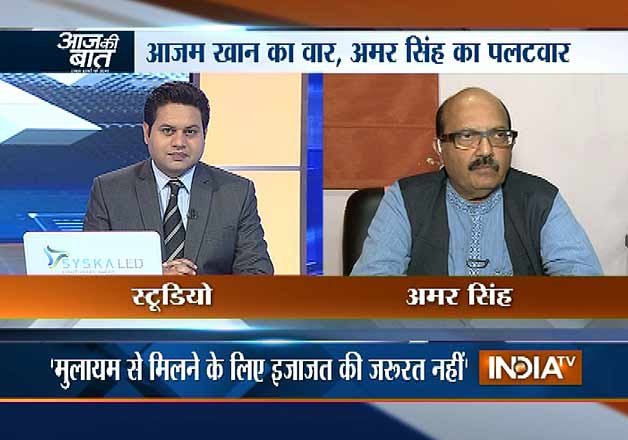 New Delhi: Former Samajwadi Party leader Amar Singh today broke his silence over his spat with Uttar Pradesh minister Azam Khan.
While talking to India TV on 'Aaj Ki Baat', Amar Singh spoke on various issues including his relationship with SP supremo Mulayam Singh and his chances of returning to the party ahead of crucial assembly elections in 2017.
Amar Singh said that he was invited in Mulayam's birthday party and contradicted the claims made by Azam Khan. At the birthday party, Mulayam and Singh offered cake to each other at the main event.
When asked about Azam Khan's recent 'waste' comment made upon him Amar Singh replied that only a jeweller can have the recognition of original diamonds.
He compared Mulayam to jeweller and Azam Khan as sweeper. Amar Singh said that Azam Khan has a mentality of a sweeper. He, however, later tried to tone down his comments and said that he was not pointing to someone in specific but was giving a general statement.
The veteran leader said, "A sweeper cannot distinguish between 'waste' and 'diamonds' in a coal mine, only a jeweller can do that".
Speaking further, Amar Singh said, "I have never begged for a Rajya Sabha seat from Mulayam and have represented the party for 3 times in Rajya Sabha".
Amar Singh was perhaps the only person from outside Mulayam's family to be present on the dais and hogged the media limelight amid talks that he was likely to rejoin the party.
Recently, Singh had met Akhilesh and Mualaym separately at their residences triggering speculation in the ruling party circles.