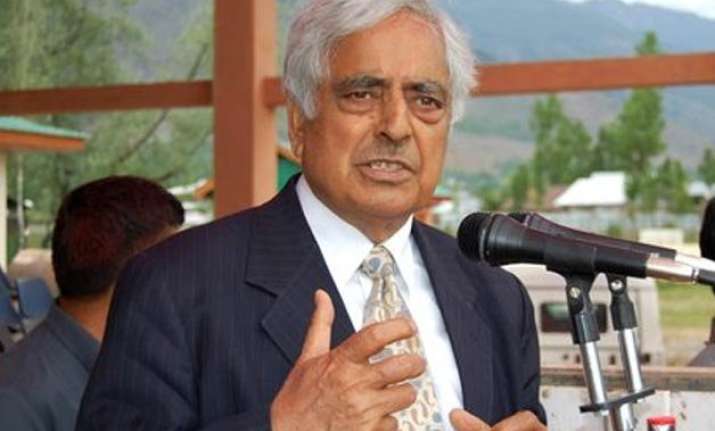 Jammu: Jammu and Kashmir Chief Minister Mufti Mohammad Sayeed and former CM Omar Abdullah today took oath among 85 others as members of 12th J&K Legislative Assembly, which came into operation from today.
The Pro-tem Speaker Mohmmad Shafi today administered oath at the swearing in the Assembly to 85 members of Legislative Assembly (MLA) out of 89 strength of the house, Secretary, J&K Assembly M Ramzan told reporters here today.  Four members, who were stranded in Kashmir due to closure of the Highway and disruption in air services, could not be administered oath as MLAs, he said.
The Minister of State, Sunil Sharma and five other MLAs, who were stranded at various places due to closure of the highway were airlifted in state chopper and brought to Jammu for oath taking.
"The Assembly has begin its innings with oath taking of MLAs. But it was constituted in January with issuance of notification," he said.
Mufti Mohammad Sayeed and Omar Abdullah took oath in English while Deputy Chief Minister Dr Nirmal Singh took oath in Hindi.
Health Minister Lal Singh and Minister of State For Finance, Pawan Kumar Gupta took oath in Dogri language and Independent MLA Hakeem Yasim took oath in Kashmiri language followed by Raja Manzoor Khan, who took oath in Gojri language and rest of them took oath in Hindi, Urdu and English.
Born on January 12, 1936 in Bijbehara in Anantnag district of the state, Sayeed took oath as MLA for 5th time.
He has been MLA in 1962, 1967, 2002 and 2008.
Omar has taken oath as MLA for the second time but he has been MP twice from Srinagar.