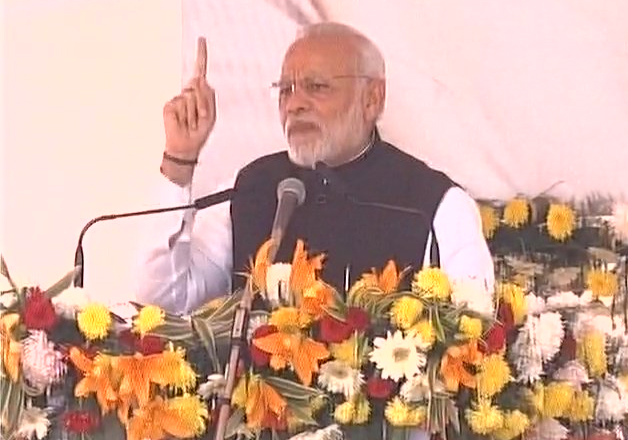 Prime Minister Narendra Modi today said that India was well within its rights to exercise its legitimate control on river waters that flow through India into Pakistan. Referring to the Indus Waters Treaty, the Prime Minister said that the government was intent on providing enough water to the farmers of Punjab and steps were being taken in that direction.
"The fields of our farmers must have adequate water. Water that belongs to India cannot be allowed to go to Pakistan. Government will do everything to give enough water to our farmers," Pm Modi said, addressing a rally in Bathinda, Punjab after laying the foundation stone of AIIMS.
The statement came in reference to the row over the Indus Waters Treaty with Pakistan.
Pakistan recently warned against use of water as an instrument of coercion or war. "The international community must assume a responsibility to develop, nurture and protect normative frameworks, at multilateral and bilateral levels, to ensure that states remain willing to resolve water issues cooperatively," Pakistan's Ambassador to the UN, Maleeha Lodhi, said in her address to the UN Security Council during an open debate on water, peace and security. 
#WATCH Have formed task force to ensure fields of farmers have adequate water. Water that belongs to India can't be allowed to go to Pak: PM pic.twitter.com/RpKSALggV5

— ANI (@ANI) November 25, 2016
The Indus Waters Treaty, signed by India and Pakistan in 1960, administers how waters of the Indus and its treaties are utilised. The treaty gives India control over Beas, Ravi and Sutlej rivers, while Indus, Chenab and Jhelum are governed by Pakistan. The Indus river flows out of India which, however, can use just 20 per cent of its water.
"There is no reason why we (India) do not even exercise our right even as our farmers keep craving for water," the PM said, adding that the government has set up a task force to ensure fields of farmers have sufficient water.  
"We have formed a task force to see what can be done to make maximum use of water that flows to Pakistan (Indus Waters Treaty) which is India's right," he added.
In his address to the gathering ahead of the Assembly elections in Punjab, PM Modi also touched upon the government's November 8 decision to scrap high denomination currency notes and said that it will ensure that the middle class and poor get their rights.
"Black money and corruption has looted the middle class and deprived poor of their rights. I want to give poor their rights," PM Modi said.
"I am doing everything possible to ensure the middle class is not exploited and the poor get their due," he said.
The Prime Minister also conveyed his gratitude to the people 'for supporting the demonetisation drive' despite facing hardships.
Stating that the decision will push the country towards a cashless economy, he said, "Your mobile phone can be turned into your bank and wallet. Today's tech can help you use it for purchasing things, making payments."
Attacking Pakistan for continuously backing terror activities, he said, "Surgical strikes completely shook Pakistan, it has not been able to recover from that shock. Pakistan now knows fully well what the Indian Army is capable of." 
"For me, elections do not matter. I am more concerned about the welfare of the farmers," he added.
This is the first public rally by PM Modi ahead of the assembly polls, slated for early next year.
The 750-bed AIIMS and institute will be built at a cost of Rs 925 crore and will be spread over 200 acres. The AIIMS project will cater to south-west Punjab, comprising the districts of Bathinda, Mansa and Sangrur where cancer and other diseases are widely prevalent.
The institute, which will be completed in two years, will also cater to the needs of the people in adjoining areas of Haryana and Rajasthan. Bathinda is the Lok Sabha constituency of Union Food Processing Minister Harsimrat Kaur Badal.