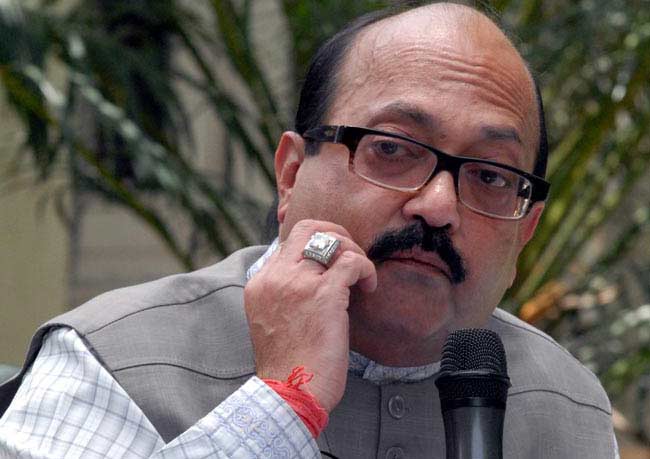 Trying to downplay the ongoing feud in the Samajwadi Party, Uttar Pradesh Chief Minister Akhilesh Yadav broke his silence on Wednesday and sought to blame "outsiders" for the rift.  
"Ghar ke bahar ke log hastakshep karenge to kaise chalega? Netaji ki baat sab sunte hain, sab maante hain (How will it work if outsiders interfere in the family matters? Everyone listens to Netaji (Mulayam Singh Yadav) and everyone abides by what he says).  
With his remarks, Akhilesh triggered off speculations in political circles. Who was he referring to with the term "outsiders"? Many would suggest it was Rajya Sabha MP Amar Singh, who is considered close to Mulayam.  
Amar Singh's meeting with Mulayam Singh after the sacking of Deepak Singhal as UP Chief Secretary may also have prompted Akhilesh to burst out at 'outsiders'. Singhal, considered close to senior cabinet minister Shivpal Yadav, had also met with the SP chief shortly after he was removed from the post.  
Amar Singh is also considered close to Shivpal Singh Yadav who had worked out the negotiations to bring him back to the SP fold. Akhilesh was opposed to the idea of Amar Singh returning to the party and had expressed strong reservations about his return after 6 years. 
Last month, Singh had threatened to quit the party, alleging that he was being insulted, kept on 'mute' and sidelined following his return to the fold after six years. 
In a television interview in Delhi, he had said that he found it humiliating that Chief Minister Akhilesh Yadav did not take his telephone calls and even kept him waiting. 
However, Amar Singh denies that he is the outsider in the feud in the Yadav family.  
"Akhilesh Yadav is like a son to me and he did not take my name as an outsider," he said while talking to reporters today.  
Despite regular attempts by journalists, Amar Singh refused to answer if Akhilesh Yadav had hinted him as an outsider. "How much ever you provoke me I won't answer this question," he said in response to the questions. 
He stressed that Akhilesh had never made any personal comment against him.  
On the question if his meeting with Mulayam Singh had anything to do with the ongoing feud, Amar Singh said he had met with the SP supremo as he shares "a brotherly relation with him."  
Once a general secretary of the SP and close confidant of Mulayam, Amar Singh was expelled from the party in February, 2010. He formed his own political party in 2011 by the name of Rashtriya Lok Manch. His outfit fielded many candidates in 2012 UP Assembly polls but failed to send a single lesgislator in the Assembly.  
Before the General Elections in 2014, he joined the Ajit Singh's Rashtriya Lok Dal and contested the Lok Sabha poll from Fatehpur Sikri but lost. 
The rift in the first family of Uttar Pradesh surfaced after Akhilesh shunted out Chief Secretary Deepak Singhal, considered as his uncle Shivpal Yadav's favourite.  
Hours later, Shivpal Yadav replaced Akhilesh as party's UP unit chief. Later at night, Shivpal was stripped off three key ministerial berths.  
The CM gave Shivpal the relatively less important social welfare portfolio, removing the senior leader from the PWD, irrigation and revenue and cooperative departments.