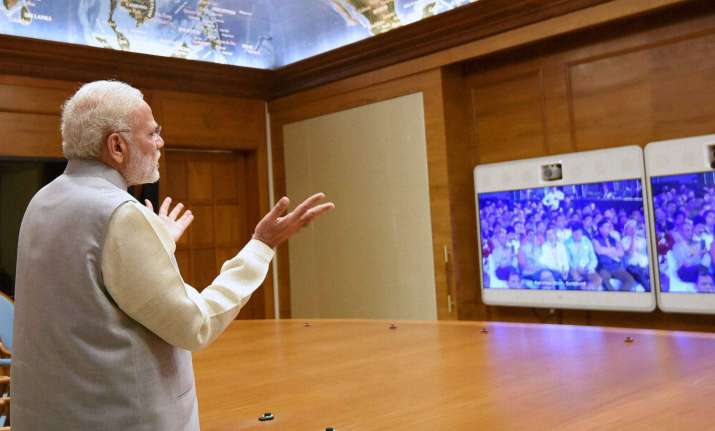 Prime Minister Narendra Modi on Friday addressed to Rail Vikas Shivir at Surajkund through video conferencing and said that there is an incredible need to change Indian Railways with the quickly change of the century and concentrate on "new speeds, advance and new limit" alongside increasing budgetary strength.
Modi, whose government has decided to scrap the 92-year-old practice of presenting a separate Railway Budget, also asserted that the annual ritual was never an exercise of "political agenda" for him and that he had taken the "courageous" decision of keeping himself "free from the love for political gains (from railways)". 
The Prime Minister, who sold tea at railway stations during his childhood, said that he had special affection for the railways considering that he had spent so much of his early days at railway platforms and had seen the largest public transporter from close quarters. 
"The century has changed, so the railways should also change. There should be new speed, progress and new capacity," he said addressing railway employees via video conferencing at the 'Rail Vikas Shivir' (rail development camp) being held in Surajkund on the outskirts of Delhi. He will be visiting the camp on Sunday, the concluding day of the event. 
Noting that the current century is technology driven, Modi pitched for innovation to make the railways strong. 
His comments came against the backdrop of efforts to introduce high speed trains in the country, for which technology and monetary assistance is being taken from Japan whose bullet train is world class. 
The first high speed corridor is to be built between Ahmedabad and Mumbai, construction for which will begin in 2018. 
Modi underlined the need for making the railways financially strong, which he said would bring benefits for the country and particularly those working for the transporter. 
He expressed confidence in the railway workforce but emphasised that they should work together and think about the railways can be strengthened. 
Referring to the Railway Budget whose separate presentation has been scrapped now, the Prime Minister said it used to be an exercise focussed on ensuring which MP got which train and who got stoppages. 
"There used to clapping on such announcements (in Parliament). When I took over, I noticed that 1500 announcements (regarding railways) had been made previously which had remained confined only to clapping," he said.
 "I could have done the same thing and collected claps and praise. But I remained "free from the love for political gains. I showed courage," Modi said, while asserting that he has "no political agenda" to pursue through the railways. 
Departing from the earlier practice, the Modi government in the last two Railway Budgets has not announced launch of any new train. 
(With inputs from PTI)