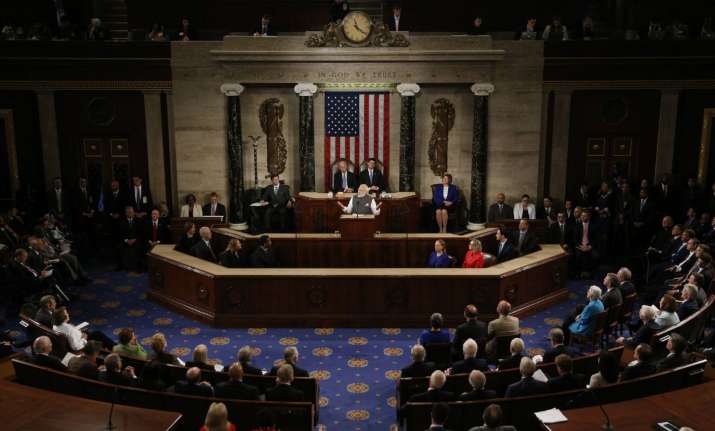 New Delhi: Prime Minister Narendra Modi is back from his five-nation tour, with his address to the joint sitting of the US Congress standing out as a major spectacle for audiences both in India and abroad.
Despite being acknowledged as a "bolne waala Pradhan Mantri" by the BJP chief as against his predecessor who was and still continues to be termed as the "silent Prime Minister" by many quarters, turns out former PM Manmohan Singh was more eloquent than his successor – at least in terms of word count.
An ET analysis has found that Modi's use of words during his address to the US Congress was lesser as compared to Manmohan Singh's  speech to the American Congress on July 19, 2005. In terms of word count, Singh's speech in 2005 was of 3,264 words while Modi's speech comprised 2,754 words, translating into a difference of 15 per cent between the two.
Besides the number of words and their choice, there were other differences that distinguished the speeches of the two.
Former PM Atal Bihari Vajpayee with former US President George Bush, 2000
No mention of immediate predecessors
While both Prime Ministers recognised the contributions made by their predecessors, neither of them found it apt to mention the name of their predecessors under whose tenure the contribution was made.
Despite two references to the Indo-US civil nuclear deal which was struck during Singh's tenure, Modi chose to stay away from mentioning him in his address. Manmohan Singh too had not been too sparing in his address to the joint sitting of the American Congress in 2005. He too did not mention Atal Bihar Vajpayee despite quoting him on India and America being "natural allies".
While Modi stopping short of mentioning Singh may raise eyebrows – it was under his watch that the government took a rather difficult decision to go ahead with the nuclear deal – there may be a fair reason for him doing so.
Former PM Manmohan Singh addressing the US Congress in 2005
Tit for Tat?
Former Prime Minister Atal Bihari Vajpayee's speech to the US Congress in 2000 was crucial to setting the tone for cordial Indo-US relations. However, Singh's 2005 speech referred to Former PM Rajiv Gandhi's speech from "this very podium two decades ago (1985)" but chose to omit Vajpayee. "As two great democracies, we are natural partners in many ways," Singh said.
No wonder then that Modi chose to return Singh's favour in kind and mentioned Vajpayee twice in his speech, making no mention of his predecessor.  "Our independence was ignited by the same idealism that fuelled your struggle for freedom. No wonder then that former Prime Minister of India Atal Bihari Vajpayee called India and the US natural allies," Modi said. "More than fifteen years ago, Prime Minister of India, Atal Bihari Vajpayee, stood here and gave a call to step out of the shadow of hesitation of the past."
Jawaharlal Nehru, B R Ambedkar
My icon vs Your icon
Besides both mentioning their own PMs in their respective speeches, the two also chose to refer to different icons for India. While Singh chose to refer to Jawaharlal Nehru, Modi found it apt to mention B R Ambedkar.
However, both used their respective mention of the icons to underline the US Constitution's influence in the drafting and framing of the Indian Constitution.
Obama with Modi, New Delhi 2015
President Bush vs 'good friend' Barack
Modi and US President Barack Obama have been known to share a friendly rapport. Obama's visit to India as guest of honour on Republic Day in 2015 and his other engagements have often been used to underline the growing bonhomis in terms of ties- both military and economic – between the two countries.
However, in his speech on Wednesday, Modi did not find it apt to make too many mentions of the US President. In fact, Singh mentioned incumbent president George Bush many more times than Modi mentioned Obama.   
On the other hand, Modi mentioned eight icons from the past as against four mentioned by Singh.