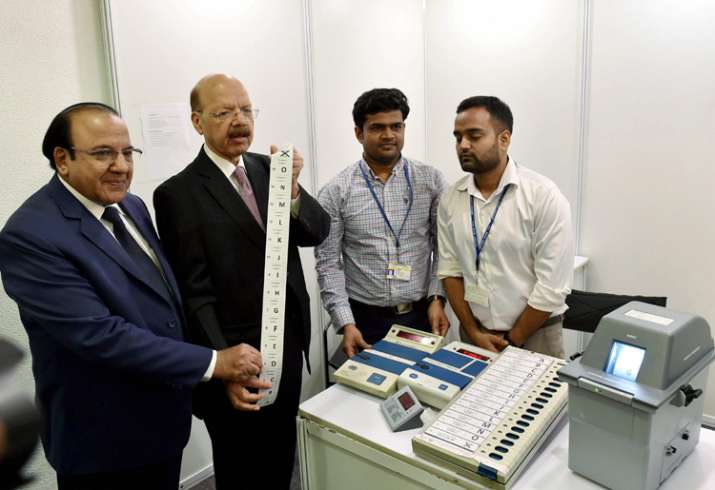 The Election Commission on Saturday said it will offer its EVMs to political parties to try and prove that they can be tampered with, a challenge which will begin on June 3. 
The machines that will be offered to the political parties will be those deployed in recently held assembly polls in five states -- Uttar Pradesh, Punjab, Uttarakhand, Goa and Manipur. 
The challenge could go on for "roughly" four to five days, Chief Election Commissioner Nasim Zaidi said yesterday. 
He also said the event should not be seen as a "prestige issue" by anyone. 
Here are the terms and conditions for the 'EVM challenge': 
The challenge would only be open to national and state parties which contested assembly polls in five states. 
Each party can nominate three members.  
Foreign experts have been barred from participating in the challenge. 
May 26 is the last date for applying for the event. 
The participants would be allowed to "physically examine" EVMs to check circuits, chips and the motherboard. 
They will be given four EVMs of their choice from assembly seats of the five states. 
Each participating group will be given four hours to hack the machine. 
Parties will not be allowed to change the motherboard of EVMs.  The Commission said with a changed chip, an EVM would no longer be the "ECI-EVM" but a lookalike.
Parties cannot take the machines home to prove at a later date that they can be tampered with. 
The 'EVM challenge' has been divided into two parts. Under the first part, the parties will have to prove that the EVMs used in the assembly elections in the five states were tampered with to favour a particular candidate or political party by altering the results stored in them. 
The claimants will have to alter the results in the control units used during these polls in exactly the same conditions in which EVMs remain under the technical and administrative safeguards of the EC after elections. 
They can use a combination of keys on EVMs or over the air communication devices such as cellphone and bluetooth to tamper with the machine to change the results, he said. 
Under part two of the challenge, the participants will have to prove that the EVMs used in the assembly polls were manipulated before or on the poll day. 
At their own cost, participants can accompany the chosen EVMs from the warehouses to the Commission headquarters in New Delhi during transportation. 
The participant would be considered to have "failed" the challenge if the EVM stops functioning due its inbuilt anti- tampering mechanism. 
Also, the challenger would be considered to have failed if it showed the result of the booth where it was used during the assembly polls even after manipulation. 
The challenge would be judged by members of the Technical Expert Committee of the EC mainly to ensure that the rules are followed and the machines are not damaged. They are independent of the Commission and do not charge anything for their service.