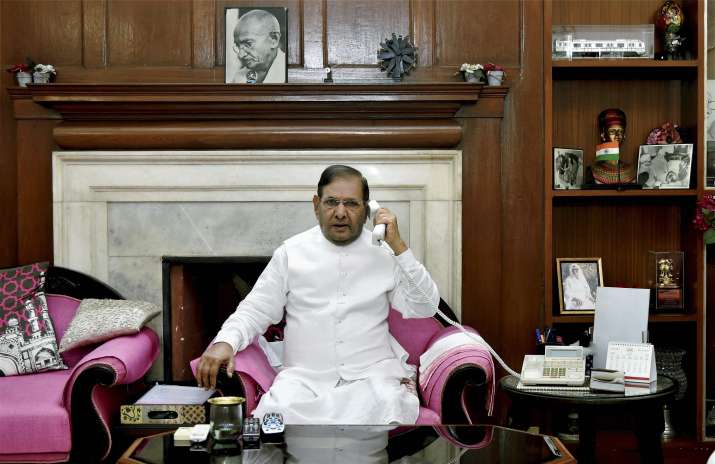 While keeping mum on Bihar Chief Minister Nitish Kumar's move of leaving the Congress-JD(U)-RJD grand alliance and joining hands with BJP to form government in the state, JD(U) leader Sharad Yadav continued with his punitive attacks on the Narendra Modi government. 
The series of tweets by Yadav came hours after he received an invitation from RJD supremo Lalu Prasad Yadav to lead the battle against the BJP in Bihar. Nitish's estranged partner Lalu claimed that Shahrad Yadav was on his side in the political turmoil in Bihar. 
Sharad Yadav, who has been a Union Minister in the NDA government led by Atal Bihari Vajpayee, targeted the Modi government alleging its 'ineffectiveness' in bringing back the black money from abroad and its inaction against those named in Panama papers.
Neither black money slashed abroad returned, one of d main slogans of d ruling party nor anyone caught out of those named in Panama papers.

— SHARAD YADAV (@SharadYadavMP) July 30, 2017
He also termed the government's 'Fasal Bima Yojana' as a 'big fauilure', saying that the scheme is only beneficial for insurers and not farmers. 
Ultimately our PSUs are used for any social cause like Govt plans to rescue stranded assets in power sector but PSUs disinvested heartlessly

— SHARAD YADAV (@SharadYadavMP) July 28, 2017
Amongst others Fasal Bima Yojana is another unsuccessful scheme of d Govt through which only private insurance companies being benefitted.

— SHARAD YADAV (@SharadYadavMP) July 27, 2017
Fasal Bima Yojana is big failure as farmers are not aware about insurers but premium deducted from their loans,benefit goes to only insurers

— SHARAD YADAV (@SharadYadavMP) July 27, 2017
The tweets come after Nitish formed the cabinet of his new NDA-backed government, giving Finance and Commercial Taxes portfolios to his deputy and senior BJP leader Sushil Kumar Modi. The new cabinet has 27 ministers — 14 from the JD(U), 12 from the BJP and one from the LJP.
Sharad Yadav is reported to be unhappy with Nitish's decision to dump Lalu Yadav and the Congress – the allies of the 'mahagathbandhan' formed to block the BJP in the 2015 Assembly elections. 
On Wednesday, Nitish had resigned as the Chief Minister, citing Lalu's son Tejashwi Yadav's refusal to step down as Bihar's Deputy CM despite facing graft charges levelled by the CBI. 
However, in less than a day, he was again sworn in as the Chief Minister – for the sixth time – this time with BJP as his new ally.