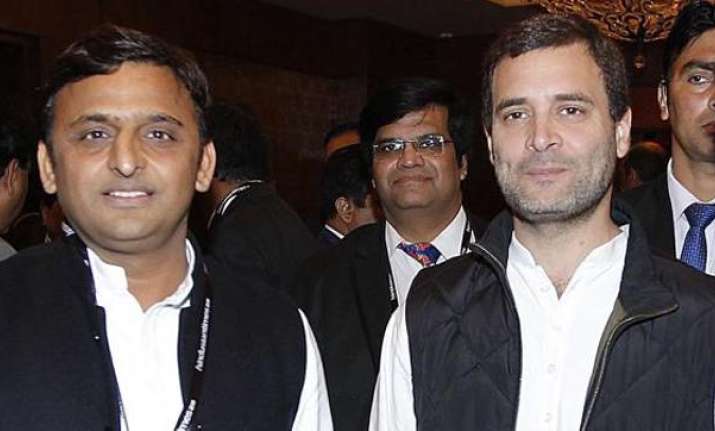 In what may seem as a major step towards cobbling a Bihar-style secular alliance ahead of the Uttar Pradesh assembly polls due next year, Congress Vice-President Rahul Gandhi is believed to have conveyed his message to the Samajwadi Party that he is willing to consider a joint alliance if Akhilesh Yadav is given full command of his party. 
According to an India Today report, Rahul's message to SP supremo Mulayam Singh Yadav was conveyed by Congress' poll strategist Prashant Kishor, who along with SP General Secretary Amar Singh, mey Mulayam at his Delhi residence last evening.
While details of the meeting were not revealed, it is being speculated that Congress and Samajwadi Party are mulling over forming an alliance. 
In order to take on the BJP and Mayawati's BSP in the upcoming UP Assembly election, Congress is believed to be working on forming a Grand Alliance with Samajwadi Party, Rashtriya Lok Dal (RLD) and JD (U). 
According to the report, Shivpal Yadav has also invited RLD chief Ajit Singh and JD (U) leader KC Tyagi to the SP's anniversary function on November 5. He had said Lohiaites and followers of Charan Singh should join hands to beat BJP in Uttar Pradesh.
Samajwadi Party, which was initially part of Bihar's grand alliance, had walked out of it after it was offered only a handful of seats to contest the assembly elections there.  
The grand alliance of JD(U), RJD and Congress had, however, scripted a glorious electoral victory, defeating the BJP-led NDA. Shivpal had recently blamed his estranged cousin Ram Gopal Yadav for Samajwadi Party's decision to walk out of the alliance in Bihar. 

 

Ram Gopal, a Rajya Sabha member, has been backing Chief Minister Akhilesh Yadav in his fight against Shivpal. Ram Gopal was recently sacked from the party amid escalating tension between the rival camps.  
Given the unusual belligerence shown by Akhilesh Yadav, the party apparently wants to fortify its position by bringing in new friends.  

The SP's main aim in the polls is prevent split of Muslim votes for which it is looking for an alliance with secular parties. 
Last week, Shivpal had recently pitched for coming together of 'Lohiawadi', 'Charan Singhwadi' and 'Gandhiwadi' forces to defeat the "communal" BJP in the assembly polls due early next year, hinting that SP,  Rashtriya Lok Dal (RLD) AND Congress could forge an alliance before assembly polls.