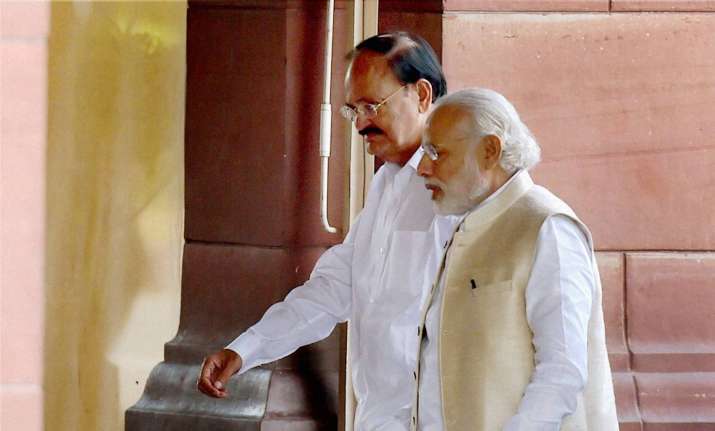 New Delhi: Union Minister M Venkaiah Naidu has described Prime Minister Narendra Modi as "god's gift to India" and a "messiah of the poor" who "inherited challenges in each and every sector", but was "steering clear of them'
"India is recognised and respected everywhere because of him,"Naidu said while moving the political resolution adopted on the final day of two-day BJP national executive meet.
He also said that Modi is seen as a leader of the largest democracy in the world.
Naidu's remarks, however, were not part of the political resolution that was adopted at the National Executive, and released late evening.
However, when reporters asked Home Minister Rajnath Singh about Naidu's statement, he said he "didn't hear Venkaiahji saying this".
He also declined to reply whether he or the BJP believes Modi is god's gift to the nation.
Naidu also said that Modi has become one of the most popular leaders in the world and is working to make India a strong and wealthy country.
A note released by Naidu's office highlighted the points on the political resolution he moved: "Narendra Modi is 'Modifier of Developing India'.  "He is decisive leader, Nationalist politician and provides progressive governance. "India is recognised and respected as the most favoured destination for investment.
"Modi is a god's gift for India. He is the messiah of the poor. He inherited challenges in each and every sector. He is steering clear of them. "Prime Minister Sri Narendra Modi made it to Time Magazine's list of 100 most influential people in 2015 and now this year 30."
Naidu also mentioned that Modi has over 18 million Twitter followers and 32 million Facebook likes, and that his "popularity has risen to the new level. His wax statue now will be unveiled in London's Madame Tussauds museum".