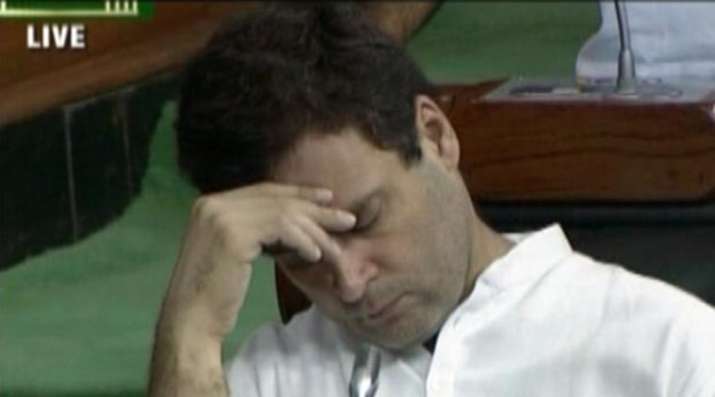 New Delhi: On a day of heated debates over alleged atrocities against Dalits in Gujarat's Una district, Rahul Gandhi left the Congress party rather embarrassed in Parliament today.
The Congress vice-president, who is set to undertake a visit to the Gujarat town to meet the victims of the assault on Thursday, was today caught napping on camera as Home minister Rajnath Singh was addressing the Lok Sabha on the matter.
The BJP, which comes under frequent attacks from the Gandhi scion outside Parliament, today left the field ripe for a picking when the Home minister congratulated the Gujarat government for its prompt response in the issue.
This remark led to opposition benches erupting in protest and it was at this moment that Rahul was caught napping on camera, his forehead resting in his hand.
While the footage (not more than a few seconds) appeared indefensible, Congress party jumped to the defence of the heir apparent.
"When we walk in from the sun outside, we sometimes rest our eyes by closing them so they can regain moisture. That's all he was doing. There was so much shouting going on....It is not possible for anybody to sleep in such an atmosphere," clarified Renuka Chowdhury, slamming the media for presenting an incorrect picture.
WATCH: Congress leader Renuka Chowdhury's clarification on Rahul Gandhi appearing to be dozing off in Lok Sabha.https://t.co/BdhqvGwG1U

— ANI (@ANI) July 20, 2016
Twitterati was quick to take dig at Rahul Gandhi, here are some of the trending tweets:
Don't blame Rahul baba for sleeping in the #LokSabha
He was up all night searching for #Pokemon. Ease up!

— Bijon Keswani (@bijonkeswani) July 20, 2016
Please don't make fun of Rahul Gandhi sleeping in the Parliament. This is his best contribution to the nation. pic.twitter.com/K1HcjJe0eD

— The-Lying-Lama 2.0 (@KyaUkhaadLega) July 20, 2016
Rahul Gandhi is the Kumbhakaran of Indian Politics,365 days he is in hibernation.

— Maya Ganguly (@fieryindian) July 20, 2016