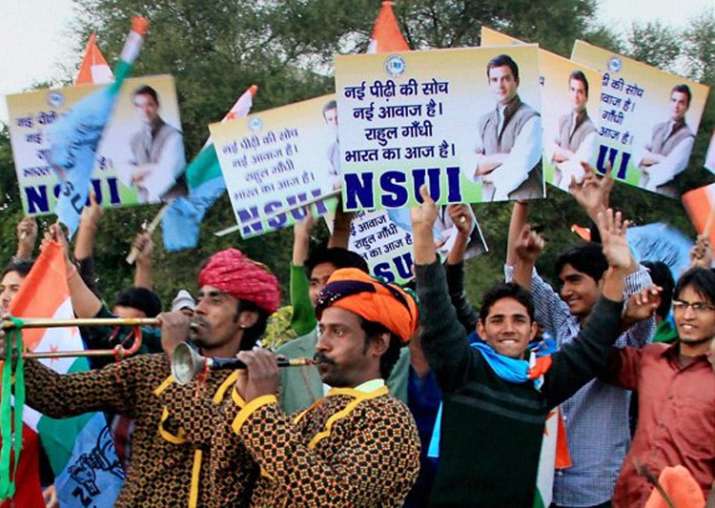 The Congress-affiliate National Student Union of India (NSUI) on Wednesday alleged that the results of the Delhi University Students Union (DUSU) were tampered at the behest of Prime Minister Narendra Modi and BJP president Amit Shah and threatened to go to court over the issue. AICC secretary in charge of NSUI Girish Chodankar said that the party's students wing won three of the four seats -- president, vice president and joint secretary, but the ABVP was subsequently declared victorious in the joint secretary seat.
"We had won three seats, but there was manipulation subsequently following the personal intervention of Prime Minister Narendra Modi and BJP president Amit Shah, after which the results were tampered. We have asked the election committee to recount the votes. If they do not do it by the end of the day, we will approach the Delhi High Court to contest the result. This is a matter of shame for the BJP that they have to manipulate results to ensure that ABVP wins," Chodankar said.
The Congress had earlier begun sending out congratulatory messages when it was reported that the NSUI had bagged three seats. Senior Congress leaders Ajay Maken and Sharmistha Mukherjee congratulated the students wing for winning three seats. But it was later announced that the Joint Secretary post went to the ABVP. 
NSUI's Avinash Yadav, who lost the Joint Secretary seat to the RSS-affiliated ABVP by 342 votes, said that the HRD Ministry and the RSS were pressuring DU administration to manipulate the results. Yadav said that they will approach the Grievance Cell now for the recounting.
He said that senior ABVP leaders were present inside during the counting area and the screen showing the video of the counting process went blank for as long as 30 seconds pointing to some irregularities.
#Delhi: Supporters of #NSUI celebrate outside 10 Janpath #DUSUelection2017 pic.twitter.com/gMZ8I64Llh

— India TV (@indiatvnews) September 13, 2017
Chief Election Officer SB Babbar, however, said there were no lapses in the counting as DU is the only university which uses EVMs. Babbar said that Yadav is crying foul because he lost with a close margin. And as for lapses in video, they were no longer than a couple of seconds. Babbar also rejected NSUI's claim that there were ABVP leaders inside the counting room. 
NSUI's Rocky Tuseed is the new DUSU president and Kunal Sehrawat the vice president. ABVP's Mahamedhaa Nagar and Uma Shankar won the posts of Secretary and Joint Secretary respectively.