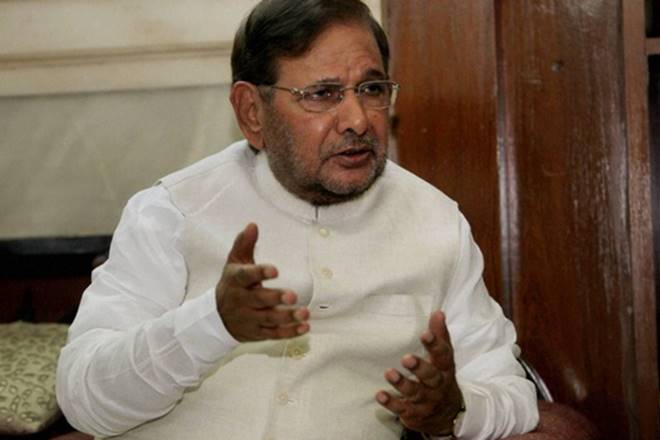 Breaking his silence on Nitish Kumar's decision to quit the grand alliance and join hands with the Bharatiya Janata Party (BJP) to form government in Bihar, senior JD(U) leader Sharad Yadav on Monday said that he "does not agree with Nitish's decision" and termed it "unfortunate". 
Yadav further said that Nitish breaking away from the Congress-JD(U-RJD) Grand Alliance and allying with the BJP and the NDA went against the "mandate by the people" who voted overwhelmingly for the former. 
"I don't agree with the decision in Bihar, it's unfortunate. The mandate by the people was not for this," said Sharad Yadav. 
Meanwhile, the Congress welcomed RJD supremo Lalu Prasad Yadav's intention to invite JD(U) co-founder Sharad Yadav to take part in the fight against the BJP and Bihar Chief Minister Nitish Kumar. 
Kumar had stumped its alliance partners when he quit as Chief Minister on Wednesday last, dumping the grand alliance with the RJD and the Congress. He formed a new government next day with the BJP. This is the first time Sharad has commented publicly on the Bihar developments.
If reports are to be believed, Yadav was probably not even kept in the loop by Nitish ahead of his decision to pull down the curtains on the 20-month-long Grand Alliance with his resignation.
On Friday, Yadav had attacked the BJP-led government at the Centre over Panama Papers and its public initiatives. "Neither black money slashed abroad returned, one of [the] main slogans of [the] ruling party nor anyone caught out of those named in Panama papers," he wrote on Twitter.
On July 27, Yadav had hit out at the central government's crop insurance scheme. "Amongst others Fasal Bima Yojana is another unsuccessful scheme of [the] Govt through which only private insurance companies being benefitted. Fasal Bima Yojana is big failure as farmers are not aware about insurers but premium deducted from their loans, benefit goes to only insurers," he said in two tweets.
After reports of his unhappiness over the decision, BJP had on Sunday appealed Yadav to not to lose his faith on Prime Minister Narendra Modi as nobody engrossed in corruption would be spared. 
"We admire Sharad Yadav and he has worked with the NDA Government as well. As a fellow politico, I will suggest Yadav to not lose hopes in Prime Minister Narendra Modi as he will bring back the black money from abroad as well as clear the corruption from the entire nation," BJP leader Ashwani Choubeyhad said.