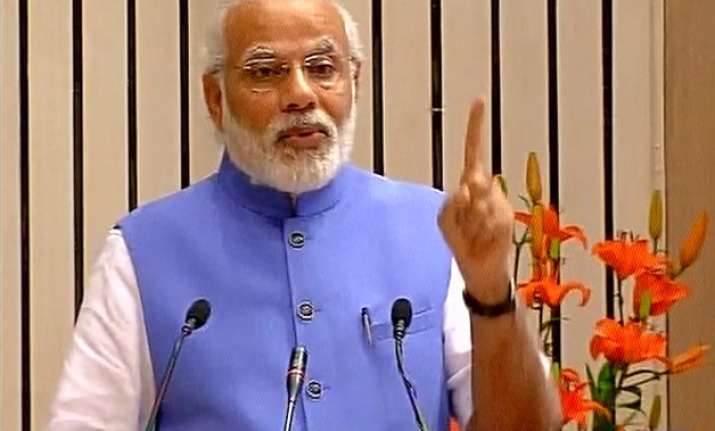 New Delhi: Prime Minister Narendra Modi today called himself a 'bhakt' of Dr Babasaheb Ambedkar as he laid the foundation stone of the Ambedkar National Memorial here, which would mainly house his relics and cover all important aspects of his life and work.
Delivering the 6th Ambedkar Memorial Lecture, he said, "We do injustice to Babasaheb by portraying him only as the messiah of Dalits, he was someone who raised the voice for all the downtrodden and suppressed people."
"Babasaheb was the voice of the marginalised. He is a Vishwa Manav. Only talking about him with respect to India is injustice to him," he said.
The three-storeyed memorial spread over 1.85 acres on Alipur Road in north Delhi will be in the shape of an open Constitution with a dome in the middle. Ambedkar, the architect of the Indian Constitution, had breathed his last at 26, Alipur Road, and the place is considered sacred by his followers.
The memorial would house relics of Dr Ambedkar, a photo gallery covering all important aspects of his life and work, Bodhisattva Bhim Jyoti, Bodhisattva Bhim Stambha, Boddhivriksha, replicas of Bhim Janambhoomi (Mhow), Deeksha Bhoomi (Nagpur), and Rajgraha and Chatiya Bhoomi (Mumbai).
The memorial will also have a meditation hall, an audio-visual wing, information center. The Central government is celebrating 125th birth anniversary year of BR Ambedkar from last one year. The objective of year-long celebration is to make the world aware of the life and the work of the legendary social reformer and a champion of the underprivileged.
The Prime Minister also inaugurated a web portal featuring the Dalit icon's complete works in multiple languages. This is the sixth memorial lecture to be held in memory of the founding father of the Constitution and it is also a part of the programmes organised to commemorate his 125th birth anniversary year.
An Ambedkar International Centre on Janpath, whose foundation stone of which was laid in May last year, is also being constructed by the government.
Highlights:
* Wherever we have got the opportunity to serve, we have taken decisions out of shradha of Dr. Ambedkar: PM Modi
* What was the reason the decision on Indu Mills was kept pending so long? Same for the place where Babasaheb stayed in London: PM
* He had a vision to realise India's maritime resources, power sector and many things. There is a bill on waterways in Parliament but let me tell you this vision is of Dr. Ambedkar's. He believed in India's maritime strength.
* Dr. Ambedkar called for labour reform and at the same time thought of industrialisation for the progress of India: PM
* Nothing has ever happened to reservation for Dalits, tribals, where we are in power but still this lie is spread to mislead. This is right that nobody can snatch from Dalits, tribals & marginalised communities.
* When Vajpayee ji became PM, sections started saying reservation will go. He was PM for two terms nothing of that sort happened: PM Modi
* Ambedkar told society 1 thing- to get educated. It's like inner power & he showed way in that regard: PM Modi
* Baba Saheb was messiah of all labourers, he was the architect of foundation labour laws. If Baba Saheb had served in govt for longer time, he could've done 60 years before what I did today: PM Modi
* Baba Saheb could never see anyone remain deprived/backward,not only Dalits but also women of Tata Birla families. Look at his vision-PM Modi
Baba Saheb Ambedkar was as iconic as Martin Luther King who fought for the oppressed: PM Modi
* Why was it that Dr. Ambedkar had to resign from the ministry?This part of history is either forgotten or diluted. When issue of equal rights to women came up, Babasaheb was clear that if women don't get equal rights I cant be a part of the ministry: PM
* The way Sardar Patel worked for Political unification, Baba Saheb Ambedkar worked for social unification. Babasaheb was the voice of the marginalised. He is a 'Vishwa Manav': PM Modi