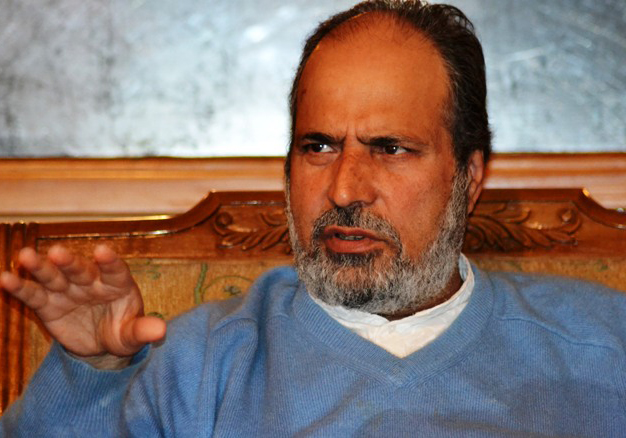 Senior PDP leader and Member of Parliament Muzaffar Baig on Thursday suggested that Mehbooba Mufti should step down from the post of Chief Minister if she feels she cannot control the situation in Jammu and Kashmir. 
"If she comes to a conclusion that she is not getting enough support and she cannot deliver on the promises that she made to the people, of course, the only course left for her will be to resign," Baig said in an interview. 
"If this alliance does not work for inner contradictions, because we are incompatible and what we have on paper is a paper of fraud and not a paper of good faith...if she comes to that conclusion and she does not get the support she must resign in honour," Baig said. 
He echoed his sentiments in an another interview. "Agar ek bael ek taraf bhagega aur doosra bael doosri taraf bhagega to phir hal hi toot jaayega (If an ox runs one way, another runs other way then plough will break off), Baig told news agency ANI.  
Baig, a founder member of the PDP, expressed the hope that Mehbooba will be able to take control of the situation but cautioned her that in case she feels that the two "alliance partners are incompatible", she is left with only one option and that is to resign.  
The PDP leader said he had no two opinions that their party president will live up to expectations and bring the situation in the restive Kashmir Valley under control. 
He said the PDP was suffering on the ground and added that the alliance between the PDP and the BJP hasn't worked and has done nothing for PDP workers.
"It is the worker at the ground level, the cadre that makes the party, they are losers any which way. We have not benefited them a bit, we have done nothing for our workers. We have not acted upon our common agenda of alliance. That is the real reason why we are in trouble today," he said.  
Baig also criticised the the all-party delegation that visited the state on Sunday-Monday. He said that the visit was high on symbolism and low on delivery. 
Baig, who has been the Deputy Chief Minister and Finance Minister in the state, said the Centre was being shown a different view of the situation in the state. "It's a case of a General who has a broader view of the situation while the soldier at the ground has a different (view)". 
He also disagreed with the government's assertion that Hurriyat is irrelevant. "Even if one person has secessionist tendency, that person must be engaged with," he said. 
"Take the case of Hurriyat Conference. Too little attention has been given to them," he said and added that if the Centre feels they are not the stakeholders, keep them on the side and talk to Pakistan directly. 
He said a sense of "disillusion" was running deep into party cadre but even in these tough times, "I have not heard a single responsible person saying that Mehbooba should resign because she has failed." 
"My personal view is that when there is a challenge, when there is a strife and uprising, you should never resign. That time you should show your strength both as a human being and as a functionary of an Indian state, Chief Minister of Jammu and Kashmir, you should show your mettle, if you have any mettle. 
"But once there is peace and still the alliance does not work, either for ideological reasons or administrative reasons or lack of agreement on implementing the Agenda of Alliance, that will be the right time to dissolve the government both for BJP and PDP but never run away when it is a difficult time," he added. 
The Kashmir Valley has been witnessing unrest for last two months with violence claiming over 70 lives so far. A violence erupted in the Valley after Hizbul Mujahideen commander Burhan Wani was killed by security forces on July 8.