Follow us on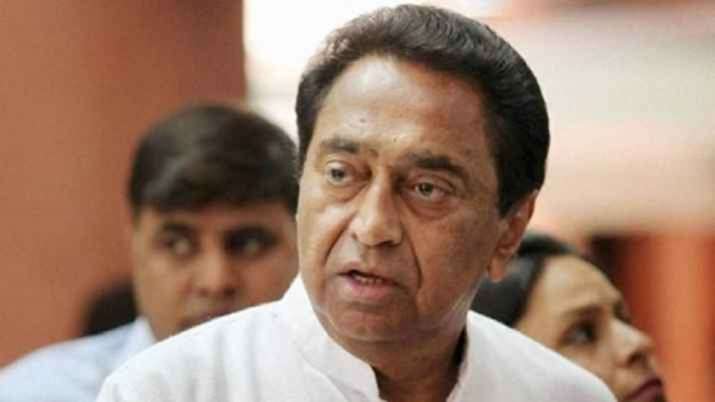 Hours ahead of the floor test today, Madhya Pradesh Chief Minister Kamal Nath has resigned. Kamal Nath announced his resignation in a jam-pact press conference organised at chief minister's house in Bhopal. Kamal Nath's resignation brings a temporary end to high-pitched political drama in Madhya Pradesh which began after Jyotiraditya Scindia quit Congress along with more than a dozen rebel MLAs. Earlier, Madhya Pradesh Assembly Speaker accepted the resignation of 16 rebel MLAs. On Thursday, the Supreme Court had ordered to conduct a floor test by 5 pm today (Friday, March 20). 
Kamal Nath resigns | Live updates
14:30 pm: BJP leader Shivraj Singh Chouhan and other party leaders arrive at the party office in Bhopal. BJP MLAs showed victory sign at the state Assembly in Bhopal after Congress' Kamal Nath resigned as the Chief Minister of the state, ahead of the floor test which was to take place at the state Assembly today.
01:37 pm: Kamal Nath has submitted his resignation to Madhya Pradesh Governor Lalji Tandon. His letter states "All that has happened in Madhya Pradesh in the last two weeks is a new chapter in the weakening of democratic principles."
01:24 pm: It's the victory for people in Madhya Pradesh as I have always believed that politics is a medium to serve people, but the state government detracted from this path. Truth has won once again, said Jyotiraditya Scindia, who resigned from Congress and joined BJP.  
01:17 pm: Shivraj Singh Chouhan, minutes after Kamal Nath announced that he is resigning as Madhya Pradesh chief minister, took to Twitter and wrote, "Satyamev Jayate".   
01:14 pm: Kamal Nath reaches Madhya Pradesh Governor's House to tender his resignation. 
12:56 pm: I had said that as long as Kamal Nath is there, I'll keep supporting him. But my priority is the people of my constituency, their development & respect of the workers. I feel that now it's not possible in the absence of leadership. Being an Independent MLA, now I don't have have any other option but to support the new government which will be formed, for the development of my people. I have spoken to them (BJP), said Pradeep Jaiswal, Independent MLA.
12:43 pm: Kamal Nath is expected to meet Madhya Pradesh Governor at 1 pm to tender his resignation.
12:37 pm: As Madhya Pradesh Chief Minister Kamal Nath resigned on Friday ahead of the floor test, senior BJP leader and former MP Chief Minister Shivraj Singh Chouhan has also left for Bhopal along with party MLAs. 
12:36 pm: I have decided to tender my resignation to the Governor today, Kamal Nath said in the press conference. 
12:28 pm: People won't forgive those indulged in horse-trading, alleges Kamal Nath. 
12.26 pm: Kamal Nath blames BJP of using power and money to destabilising the majority government.
12:20 pm: The people of this country can see the truth behind the incident where MLAs are being held hostage in Bengaluru... The truth will come out. People will not forgive them, Kamal Nath said in his presser.
12:11 am: As per sources, SP and BSP MLAs may skip floor test if Kamal Nath faces trust vote.  
11:57 am: I had accepted 16 resignations last night. Now I have also accepted resignation of Sharad Kol (BJP MLA). He had earlier said that he was forcefully made to resign but after looking at his documents & that he didn't meet me personally, it didn't seem like that: MP Assembly speaker.
11:56 am: Congress MLAs arrive at the residence of Madhya Pradesh Chief Minister Kamal Nath, ahead of floor test in the Assembly today. Chief Minister Kamal Nath is set to big announcement shortly. 
Supreme Court directed MP Assembly Speaker to conduct floor test by 5 pm today
On Thursday, the Supreme Court ordered Madhya Pradesh Assembly Speaker to conduct a floor test by 5 pm on Friday (today), leaving the fate of the 15-month-old Kamal Nath government hanging by a thread after the resignation of 22 Congress MLAs. The CLP meeting was called ahead of the special session of Madhya assembly scheduled to start at 2 pm.
"Yes we are going to the chief minister's residence, where are going to draw our final strategy for the House," a Congress MLA told PTI before heading to the meeting.
When asked about the speculations that the ruling party MLAs would resign en masse, he said, "I do not think so."
ALSO READ | Kamal Nath may quit before floor test on Friday