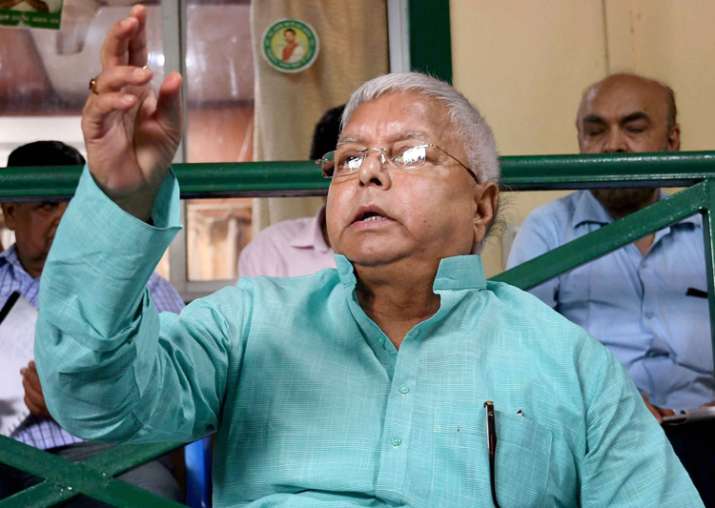 Responding to the allegations made by Bihar Deputy Chief Minister Sushil, Rashtriya Janata Dal supremo Lalu Prasad Yadav on Sunday launched a blistering attack on him and Chief Minister Nitish Kumar, saying that "litti chokha" and "Nitish ka dhokha" were trending in the state. 
Addressing a press conference here, Lalu alleged that while his party had made a complete disclosure of the properties owned by them, the 'palturam' Nitish was using a high pitch to hide his involvement in several other scams. 
"Two things are famous in Bihar - 'litti chokha' and 'Nitish ka dhokha'. By speaking loudly in speeches, he cannot get away with his involvement in scams. I heard him say earlier that those, who indulge in corruption, will not be let free. This is exactly how sinners and defaulters speak. We have declared our property in public; we have nothing to hide," said Lalu.
 
Lalu's valiant attack on Nitish was in regard to his decision of leaving the 'mahabathbandhan' and joining hands with BJP to form the new government in Bihar. 
He further cited the Srijan Scam, where an NGO allegedly siphoned off an estimated Rs 700 crore of public funds, to allege that the campaign against Nitish and Sushil Modi would continue, until they tender their resignation. 
The RJD chief also said that he would approach the Enforcement Directorate and Supreme Court over his alleged involvement in the case.
 
"Our party rally will end on August 27. Following that, we will approach the ED, the CBI and the Supreme Court. Nitish is the root cause of all corruption. We will not keep quiet until 'palturam' Nitish and his 'santuram' Sushil Modi resign," he said. 
He also said that Tejashwi Yadav's ouster as the Deputy CM as a political move. "The Nitish Kumar-led government has spent crores of money without giving an account for any of the expenditure. Once the expose happens, even Delhi will not be able to save him," he said. 
'Lalu parivar' has found 'new techniques' of illegally capturing land, alleges Sushil Modi
Earlier today, Sushil Modi lashed out at Lalu and his family over his silence on being involved in multiple land scams and possession of crores worth of property and black money. 
Addressing a press conference, Sushil Modi revealed that the latest technique adopted by the 'Lalu parivar' is the transfer of property using the power of attorney as a medium.
"In the past, Lalu Yadav has accepted land from former Bihar Public Service Commission chairman Ramashray Yadav, in exchange of giving him this position. He is in possession of crores worth of money and illegal property, and is finding out new techniques for the same," he alleged.
Giving a detailed disclosure of the illegal properties in Lalu's possession, Sushil alleged that by means of transfer of the power of attorney, Lalu succeeded in avoiding disclosure of the real extent of property owned by him.
"Starting with the BPSC chairman, Lalu had his property registered through other means apart from his own name, such as in the form of gifts, companies and so on. Once the property was registered in another person's name, such as that of Ramashray Yadav, the power of attorney would be transferred on certain clauses, with the end ownership of property going to Lalu Yadav, his wife Rabri Devi or any member of his family or close aides," said Sushil, adding that he would expose the RJD supremo further with any available document.