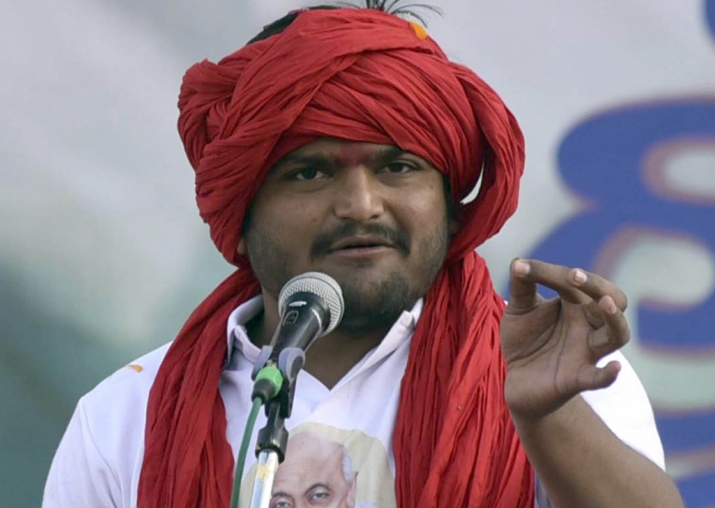 Firebrand Patidar leader Hardik Patel today rejected Congress' offer to join hands with the party to defeat the ruling BJP in Gujarat which is in power from last two decades. 
Speaking to India TV here, Patel said that he is open to the officer but the 'Congress party first should explain how it will give 20 per cent reservation and fulfil our demands'. 
He also raised questions over extending the offer just ahead of upcoming Assembly elections.
"Why you had not given support to us 2 years ago?" he asked.
Patel also said that the upcoming Gujarat Assembly polls is not a fight between the two (BJP and Congress) parties, but it is an election of six crore people. 
"The Congress party must tell us clearly how it will fulfil our demands. Our fight is for the rights of farmers, for the society… not to contest elections," he said.
To a question related to Gujarat Congress president Bharatsinh Solanki's remark that the party will provide 20 per cent reservation to Patidars if voted to power, he said: "The Congress is saying that it will ensure 20 per cent reservation. But it should explain to the society how? We want clarification on their promise of giving us 20 per cent of reservation, then we will join you." 
"The BJP government had had given us reservation but the High Court quashed it. This what we all want to know, first explain us," he added.
He also questioned the timing of the Congress' offer. "Why you had not given support to us 2 years ago?"
Our fight is against the BJP, he said, adding that "we also should unite to give a tough fight to the BJP".
Hoping to garner support of various communities in Gujarat polls, state Congress chief Bharatsinh Solanki earlier in the day asked Hardik Patel, Thakor community leader Alpesh Thakor and dalit leader Jignesh Mevani to join hands with the party to defeat the ruling BJP. 
Apart from these leaders, Solanki also hinted at forging a pre-poll alliance with Sharad Pawar-led NCP and bringing on board Chhotu Vasava, the lone JD(U) MLA in the state. 
The Congress is out of power in Gujarat for 22 years.
Elections in Gujarat will be held later this year.