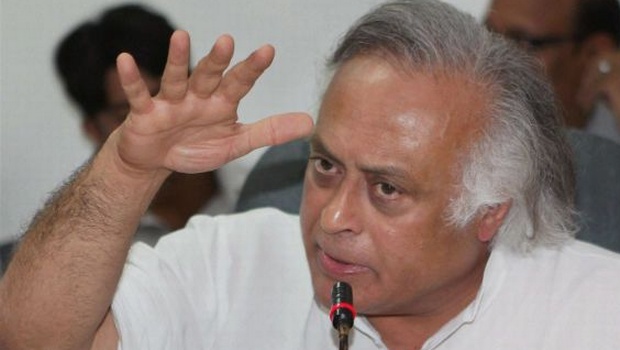 New Delhi:  Senior Congress leader Jairam Ramesh today came down heavily on former RBI Governor D Subbarao for creating an unnecessary controversy through his book 'Who Moved My Interest Rates - Leading the Reserve Bank of India through Five Turbulent Years'.
Ramesh accused Subbarao of doing great injustice to his political masters. The former RBI Governor, in his book, has alleged that former Finance Ministers P Chidambaram and Pranab Mukherjee interfered in the functioning of the Reserve Bank of India, especially on setting interest rates, and the differences even led to two of his deputies not getting extensions.
Noting that the RBI has always been independent, Ramesh argued that the elected government of the day is answerable to the people of the country, while the central bank is not.
"So, this controversy, which now Subbarao has also entered, it is most unnecessary... Because ultimately the Finance Minister has to weigh so many considerations, whereas the Governor of Reserve Bank of India can afford to be single-minded in his approach. Prime Ministers cannot, Finance Ministers certainly cannot (afford to be single-minded in their approach). So, I think Subbarao has done grave injustice to his political masters," Ramesh said.
Ramesh also "completely opposed" the proposed merger of associates into the SBI, saying it is the "western mania" to have big banks and termed the move as "very ill-advised".
Citing an example, the Rajya Sabha member said the State Bank of Hyderabad played an important role, along with Andhra Bank, in propagating women self-help groups movement in undivided Andhra Pradesh as they were headquartered here and had the state's interests in mind.
"And now they (SBH) will be part of this vast ocean called the State Bank of India, and it's not clear to me... Except that the balance sheet of State Bank of India becomes larger, I don't think the service is going to improve," Ramesh said.
Meanwhile, he also advocated that there is absolutely no reason to have a separate Railway Budget, adding that he had repeatedly in the past few years expressed this view.
"There was a reason (to have rail budget) in 1920s when 60 or 70% of the capital expenditure of government of India was that of the Railways. Over the years, that proportion has dwindled to not more than 5%, or 6% perhaps.
"Also, the separate budget has put enormous political pressure on the railways to follow policies that are economically not logical or rational," Ramesh added.
(With PTI inputs)