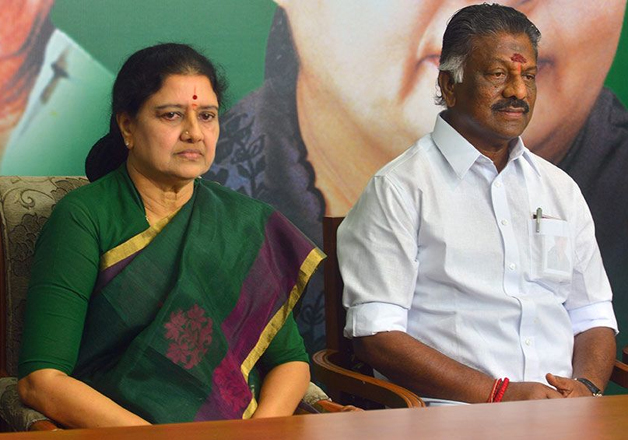 In a major setback to both the VK Sasikala and O Panneerselvam factions of the AIADMK, the Election Commission on Wednesday ordered to freeze the  'two leaves' election symbol of the party ahead of the by-poll in RK Nagar Assembly, a constituency represented by J Jayalalithaa before her death.
Both the factions want to contest the April 12 RK Nagar assembly bypoll on the AIADMK symbol and have fielded their respective candidates. March 23 is the last date of filing nominations for the byelection.
"Both groups shall be allotted such different symbols as they may choose from list of free symbols for current by-poll in RK Nagar", said EC.
The Commission said that neither of the two groups are allowed to use the party's named and symbol. 
"Neither of the two groups (O Panneerselvam and V.K. Sasikala) shall be permitted to use AIADMK name," added EC.
In the ongoing tug of war for the party symbol, the Panneerselvam camp had last week submitted a petition to the poll body requesting allotment of the 'twin-leaf' symbol to it.
On the other hand, the Sasikala camp led by party leader and Lok Sabha Deputy Speaker M Thambidurai had submitted a memorandum to the poll panel requesting 'not to entertain' the dissenting cadres, who have staked claim to the AIADMK symbol.
The Commission had initially asked supporting documents from the Panneerselvam camp before March 20. The Sasikala camp was asked to file its response also by March 20. But it sought time till March 22.