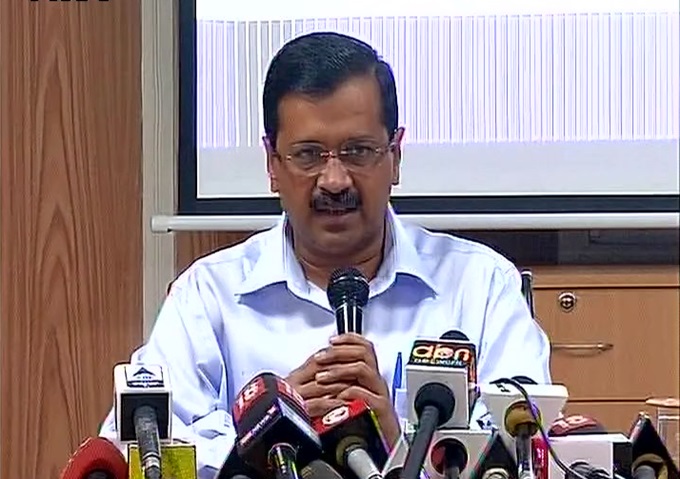 Launching a fresh attack on the Modi government over demonetisation, Delhi Chief Minister and Aam Aadmi Party (AAP) convenor Arvind Kejriwal on Saturday described the November 8 decision as a 'surgical strike' on common man and demanded immediate roll back of the move.
Kejriwal said that demonetisation will not bring black money into the banking system but will only result in it changing hands and alleged that those close to the Bhartiya Janata Party (BJP) were already aware of the government's move and took care of their black money before the announcement.
"One can see it from the fact that many banks which had shrinking deposits from many months suddenly saw growth of two to three percent in July to September quarter. This growth means many thousand crore rupees jump in deposits. Whose money was it," Kejriwal asked.
"It means that those who were close to the BJP were aware of the government's announcement in advance. They already took care of their black money. And it is the common people who are facing all the trouble (due to demonetisation)," he added.
Kejriwal added that the whole process will be futile and "not a single penny" of black money will enter the Indian economy.
"The black money will only change hands. For example, a person having Rs 10 crore worth of black money will not deposit in bank. Because he will be charged 30 per cent tax and 200 per cent penalty on that leaving him with only Rs 1 crore."
"Instead, he is buying foreign currency, gold etc. at double the price," Kejriwal explained.
He added that many brokers in the market have emerged who are getting old currency changed into new Rs 2000 notes.
"Now these brokers are changing the currency at a commission of 50 percent. So the gold trader will exchange his old notes. As a result, the person who had Rs 10 crore black money will be left with Rs 5 crore in his hands and the rest Rs 5 crore is divided between the broker and the person selling gold, foreign currency etc," Kejriwal explained.
He further alleged that an intentional crisis has been created so people run to the brokers to exchange money.
"They (the government) are threatening on TV that those depositing more than Rs 2.5 lakh won't be spared and will have to pay a heavy penalty. What they mean is don't deposit the money. Our brokers will come and exchange it with them," Kejriwal alleged.
Kejriwal said the government's move is a "surgical strike" on those who saved their life earnings and will have no effect on those who deal in thousands of crore worth of black money.
"We are questioning the intent of the decision, not just its implementation," Kejriwal said while demanding its rollback.
#FLASH: Delhi CM Arvind Kejriwal demands that the decision of demonetisation of Rs 500/1000 notes must be rolled back.

— ANI (@ANI) November 12, 2016
2 din pehle desh mein bhrashtachar kam karne ke naam pe asal mein ek bohot bade star par ghotaale ko anjaam diya ja raha hai: CM Kejriwal pic.twitter.com/fTKybPwf6A

— ANI (@ANI) November 12, 2016
Jab PM ne ailaan kiya, uske pehle apne saare doston ko satark kar diya jinke pas kaala dhan hai,unhone apna maal thikane laga diya: Kejriwal pic.twitter.com/yk8sEcpy7M

— ANI (@ANI) November 12, 2016
Modi ji ka surgical strike kaale dhan ke upar nahin hai, aam janata ke barso se jode hue savings par strike hai ye: Arvind Kejriwal,Delhi CM pic.twitter.com/pOgRB6EtEL

— ANI (@ANI) November 12, 2016
Earlier on November 10, in a video message Kejriwal, posted on the Aam Aadmi Party's official Facebook page, slammed the central government saying it was only the common man who was suffering from the move. 
"Only common man could be seen standing in long bank queues armed with Rs 500 and 1,000 notes in order to exchange or deposit them. Are these the people with black money?" Delhi CM said.
"Do you find black marketers in the queues? Or rich people?" he asked, alleging that the PM's 'friends' were informed well in advance of the planned move a week ago.
The Delhi CM further questioned the move to introduce Rs 2,000 currency notes, saying the decision had opened the doors for commissions and would help big black money hoarders.
"Those who have their beds and cupboards stashed with crores of rupees have not been targeted. Unki setting pehle hi ho chuki hai (arrangements have already been made for them)," Kejriwal alleged. 
The Aam Aadmi Party (AAP) leader also challenged PM Modi to make public the names of the 648 Indians with Swiss bank accounts whose details he said were given to New Delhi during the earlier UPA regime.
Kejriwal said the introduction of 2,000 rupee notes would only make life convenient to both bribe givers and takers.
"Those who earlier took 100 notes of Rs. 1,000 notes will now carry only 50 notes of 2,000 value," AAP chief said in a video message.