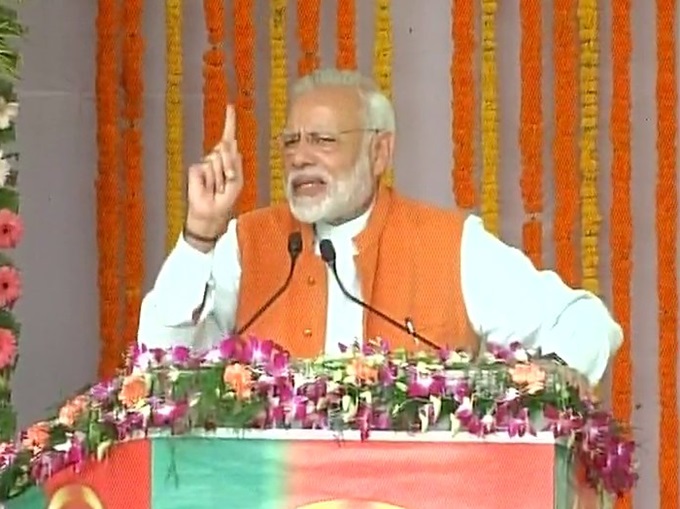 Asserting that the move to demonetise high value currency notes was a crackdown on corruption and the corrupt, Prime Minister Narendra Modi today said that the decision would benefit the poor and go a long way in addressing issues pertaining to corruption and black money in the country. 
Taking a dig at black money holders, Prime Minister Modi on Monday said that the rich were busy buying sleeping pills, while the poor and tax payers were sleeping peacefully following the November 8 announcement of demonetisation of Rs 500 and Rs 1,000 currency notes. 
"Poor are sleeping peacefully and some rich people need sleeping medicines," the PM said, after laying the foundation for several rail projects in in poll-bound Uttar Pradesh's Ghazipur area.
While admitting that his decision is too harsh, PM said: "My decision is a little "karak" (strong) .When I was young, poor people used to ask for 'kadak' tea but it spoils the taste of the rich. The same is happening now."
The PM further recognised the hardships people were facing following the decision, but said that their sacrifice won't go in vain. "I am really pained by the inconvenience and that is why I am working tirelessly to help people to overcome this soon. Many measures have been taken in this regard and some others will be implemented soon," he said.
Attacking those hoarding money, PM said: "Have you ever seen people throwing their notes in the Ganga? You sinner, your sins will not be washed even by the Ganga."
Further, defending his decision of scrapping notes, PM Modi said, "I am doing what I had promised to the citizens before elections to flush out black money from our country."
When PM asked the gathering if he did right thing by scrapping notes, he got a loud roar in reply.
The Congress too came under severe attack on PM Modi for its continuous criticism on the demonetisation move. The PM said that the Congress did not have the resolve to touch high value currency during its rule and asserted that the "clean up" was required as a lot had been looted in the last 70 years.
"I am surprised that the Congress is asking why did I stop Rs 1000 notes and 500 notes. When you stopped 25 paise, did we say anything? You could dare to stop only 25 paise, that's what your power was limited to. But you did not make higher denomination currency notes illegal. ... We did it."
"People have chosen a government and they expect so much from it," Modi said, adding "You had also agreed to stop (black money), but you did not have the strength to stop big notes. You wanted to run the vehicle (by stopping) 25 paise." 
Reacting to news that women, particularly housewives, were being misguided that all their savings is under scanner post demonetisation, PM said: "Women with genuine savings need not worry about and nobody would question them till Rs 2.5 lakh deposited in banks." He, however, warned that those depositing Rs 2.5 crore will not be spared. 
The PM also noted that since the announcement, some people were getting out during the night to do away with bags stashed with old currency notes. The PM said that such people, if caught, will not be spared either.
 On Sunday while in Goa, Modi made an impassioned plea to the nation to give him just 50 days to weed out ill-gotten wealth in the country.