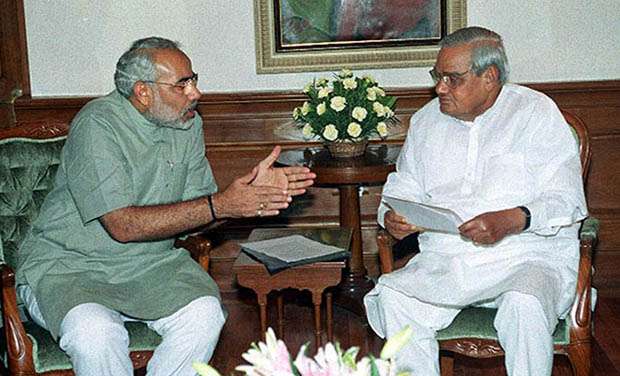 The Prime Minister's Office and Gujarat government have been presented with notices by CIC on the issue of disclosure of the correspondence exchanged between the then Chief Minister Narendra Modi and then Prime Minister Atal Bihari Vajpayee in the aftermath of the 2002 riots.
This step by the Chief Information Commissioner Radha Krishna Mathur came citing an order of the Delhi High Court which had said that views of third party as mandated in Section 11 and 19(4) of the RTI Act must be taken.
The PMO and Gujarat government (through its Chief Secretary) have been directed to present their submissions during the hearing in first week of November.
The case relates to Subhash Agrawal who had sought the disclosure of communication through his RTI application dated December 16, 2013.
In an earlier and separate RTI application filed by another person, the Prime Minister's Office had said the communication cannot be disclosed as it will adversely affect the prosecution and conviction in the case.
The applicant had sought copy of all communications exchanged between the PMO and the Gujarat government between February 27, 2002 and April 30, 2002 on the law-and-order situation in the state.
Later, on the directions first appellate authority in the Prime Minister's Office, the CPIO had replied that they are already in the process of taking views of the third party (which was Gujarat Government and Narendra Modi in the case). 
(With PTI inputs)