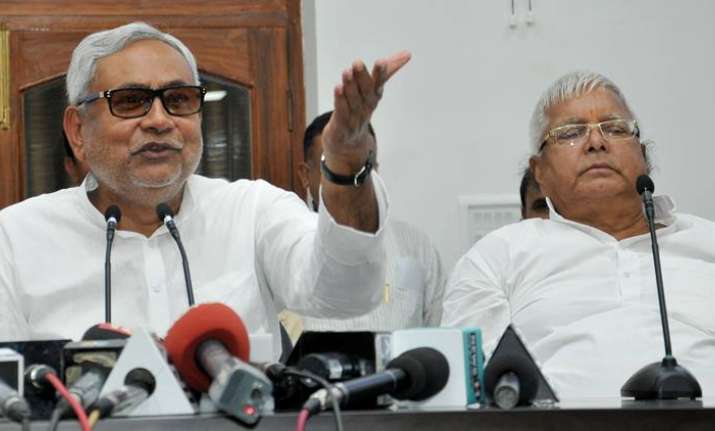 Amid reports of straining ties between Bihar Chief Minister Nitish Kumar and his partner RJD's Lalu Prasad Yadav, the Bharatiya Janata Party (BJP) on Monday offered outside support to the government if the former chooses to break the alliance. 
"If the need arises and central leadership orders, we will offer our outside support," BJP's Bihar chief Nityanand Rai said on the question of support to Nitish Kumar. Nityanand Rai is an MP from Ujiarpur Lok Sabha constituency in Bihar. 
Rai, however, soon altered his statement and said that only an NDA government led by the BJP can bring development in Bihar. 
"BJP wants the development of Bihar and no government can be better than the BJP's. Nitish cannot develop Bihar if he stays with Congress and RJD. Bihar was developing faster when Nitish was with the NDA. There can be no development without the BJP and the NDA," Rai said. He reportedly changed his statement after instructions from the party. 
"We want a good government in Bihar and that cannot happen without the BJP. A good government in Bihar is only possible under the leadership of the BJP," he said. 
The BJP, which was the alliance partner of the Janata Dal(United) in Bihar and at the Centre for over a decade, has been courting Nitish after cracks in Bihar's ruling 'Mahagathbandhan' appeared recently. Congress is the third partner in the alliance.
Nitish has not commented so far on Friday's CBI raids in four cities in connection with a corruption case, in which the RJD chief Lalu Yadav, his wife Rabri Devi and son Tejashwi Yadav are among the accused. 
Tejashwi is also Nitish's deputy in the state government. BJP and its NDA partners have been demanding Tejashwi's resignation over the issue and if Nitish sacks his deputy over the alleged corruption charge, his government is bound to fall. 
Meanwhile, senior RJD leader Jagdanand Singh today said that Nitish had called up Lalu last night but refused to divulge what transpired in the telephonic talks between them.