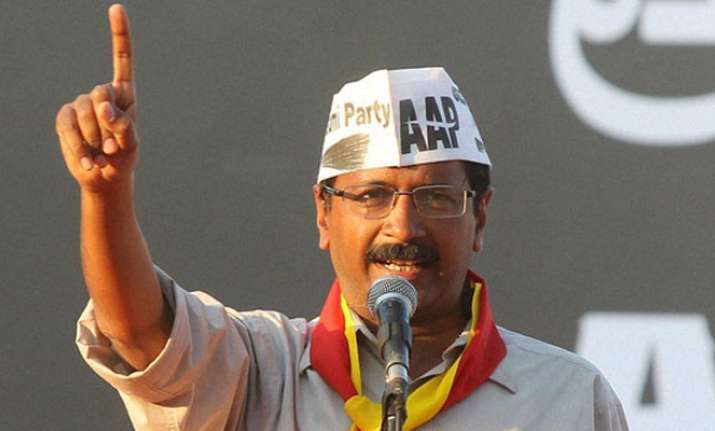 Aam Aadmi Party patron and Delhi Chief Minister Arvind Kejriwal on Thursday questioned Prime Minister Narender Modi's intentions in banning Rs 500 and Rs 1000 currency notes to curb terror and black money, saying the move will increase corruption.
 When media persons asked Kejriwal to react on this PM Modi's 'sudden' decision, he said: "I don't understand one thing, how you end corruption by banning Rs 1000 notes and introducing Rs 2000 notes?"
 The Delhi CM further claimed that the central government had informed their associates a week back about this decision.
"They informed their associates a week back and they have already invested their money. This will just increase corruption," Arvind Kejriwal said.
In a video message Kejriwal posted on the Aam Aadmi Party's official Facebook page, he slammed the central government saying it was only the common man who was suffering from the move. 
 "Only common man could be seen standing in long bank queues armed with Rs 500 and 1,000 notes in order to exchange or deposit them. Are these the people with black money?" Delhi CM said.
 
"Do you find black marketers in the queues? Or rich people?" he asked, alleging that the PM's 'friends' were informed well in advance of the planned move a week ago.
 The Delhi CM further questioned the move to introduce Rs 2,000 currency notes, saying the decision had opened the doors for commissions and would help big black money hoarders.
 
"Those who have their beds and cupboards stashed with crores of rupees have not been targeted. Unki setting pehle hi ho chuki hai (arrangements have already been made for them)," Kejriwal alleged. 
   
The Aam Aadmi Party (AAP) leader also challenged PM Modi to make public the names of the 648 Indians with Swiss bank accounts whose details he said were given to New Delhi during the earlier UPA regime.
 Kejriwal asserted that the problem of black money would get over if the Prime Minister orders the arrest of these 648 people by Thursday evening.
 Kejriwal said the introduction of 2,000 rupee notes would only make life convenient to both bribe givers and takers.
 "Those who earlier took 100 notes of Rs. 1,000 notes will now carry only 50 notes of 2,000 value," AAP chief said in a video message.
Click here to see Arvind Kejriwal's video message
PM Narendra Modi, while addressing the nation on Tuesday, declared that Rs 500 and Rs 1,000 notes would not be a legal tender from November 8 midnight.
Earlier on Thursday, millions of anxious people armed with Rs 500 and 1,000 notes mobbed banks across India to exchange or deposit them after the government decided to take the bills out of circulation.
Opposition parties like the Congress, SP and the BSP have also targeted the Centre for its sudden move. 
Congress vice-president Rahul Gandhi said: "Once again MrModi shows hw little he cares about ordinary people of this country-farmers, small shopkeepers, housewives-all thrown into utter chaos."
"While the real culprits sit tight on their black money stashed away abroad or in bullion/ real estate. Well done Mr Modi," Rahul tweeted.
Samajwadi party Chief Mulayam Singh said: "The sudden ban on high denomination notes has caused immense hardships to commoners, farmers and the poor, the demonetisation has been done by the NDA government with an eye on elections, and not keeping plight of people in mind."
BSP supremo Mayawati also lashed out at PM and Said: "PM's decision is bit selfish, if they really wanted to curb black money then why they took this decision after so many years." 
The government, however, have brushed aside the claims of the opposition parties.
Finance Minister Arun Jaitley said: "This will be one very significant step where people have been shaken, people have realised and I can tell you bulk of India is welcoming it."