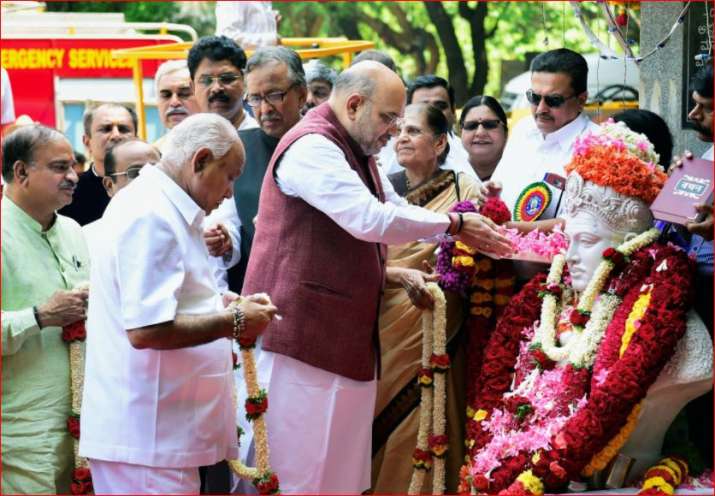 Launching a scathing attack on Congress for allegedly defaming the country in the name of "saffron terror and Hindu terror", BJP chief Amit Shah today asked Congress president Rahul Gandhi to apologise for linking Hindu culture with terrorism.
The BJP chief said that while the great Hindu culture taught the world about culture, peace and civilisation for lakhs of years, the Congress party has committed a sin by linking it to saffron terror.
"Rahulji, Terror has no religion. Now Congress says we never used these words. Many Congress leaders including (Karnataka) Chief Minister Siddaramaiah are on record using these terms," Shah said while addressing a meeting of party "Shakti Kendra" in Bengaluru.
Amit Shah targeted the Congress over "saffron terror" term after all five-accused in the 2007 Mecca Masjid blast case were acquitted by the NIA court.
Following the BJP attack in the wake of the Mecca Masjid blast verdict on Monday, the Congress had said there was nothing called 'saffron terror' and asserted that terror cannot be linked to any religion or community. 
The party had also asserted that neither its leader Rahul Gandhi nor the party ever used the phrase. 
The Congress had reacted in reply to the BJP attack over it following acquittal of right-wing activist Aseemanand and four others in the 2007 Mecca Masjid blast in Hyderabad. 
The BJP had attacked Congress alleging the party had defamed Hindus by using the term "saffron terror" and demanded apology from both the previous and current Congress presidents - Sonia and Rahul Gandhi. 
Recalling that former Prime Minister Rajiv Gandhi, following the Congress' landslide victory in the 1985 Lok Sabha elections in wake of the assassination of erstwhile Prime Minister Indira Gandhi, had mocked at BJP by saying 'hum do, hamare do', Shah said his party today has a full majority in Parliament and more than 1,600 MLAs in 20 states. 
"Rajiv Gandhi Ji had taunted us when we had just two 'MPs, saying 'BJP believes in hum do hamare do'. Today BJP has a full majority in Parliament, has more than 1600 MLAs, in power in 20 states and in numerous local bodies and municipalities," he said. 
"Shah said the credit for forming government in 20 states goes to booth the workers and 'Shakthi Kendra Pramukhs.' 
"We started off with 10-party members and now we are the largest political party in the world with 11 crore party members," the BJP chief said.
(With PTI inputs)