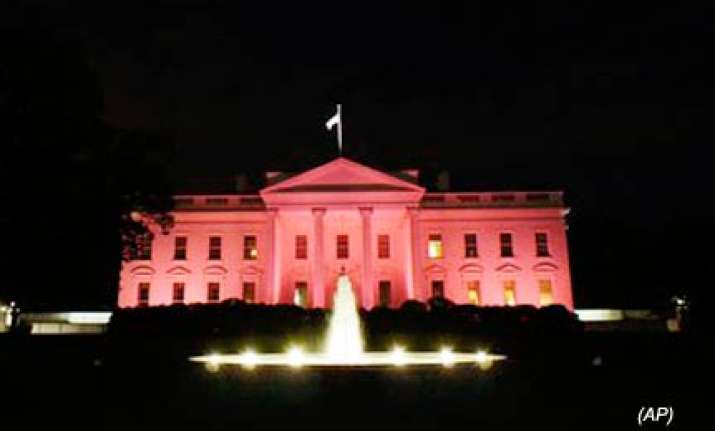 Recognising October as the National Breast Cancer Awareness Month, US president Barack Obama decides to turn the official residence into Pink House for one night only
At 6:30 pm, yesterday the North Portico of the White House residence and the main gate to the Naval Observatory was lit pink for National Breast Cancer Awareness Month, the colour of the cause.
The respective homes of President Obama and Vice President Biden also stayed pink on Friday.
There's much past precedent for this the Bush White House in 2008 similarly lit up the White House pink for the first time.
Last year the Obama White House opted for a large pink ribbon to hang on the North Portico.
President Barack Obama announced on Thursday via the Twitter, the social network that the building will be bathed in pink light. It will be for just one night.
The American Cancer Society says there are roughly 40,000 breast cancer deaths each year in the US.
On October 1, President Obama issued a Presidential Proclamation for breast cancer awareness month.
"As we display pink ribbons on our lapels, offices, and storefronts, we also support those courageously fighting breast cancer and honour the lives lost to this devastating disease," the president says in the proclamation.
"During National Breast Cancer Awareness Month, we stand with our mothers, daughters, sisters, and friends, and we recognise all who have joined their loved ones in fighting their battle, as well as the advocates, researchers, and health care providers whose care and hard work gives hope to those living with breast cancer.
 
By educating ourselves and supporting innovative research, we will improve the quality of life for all Americans
affected by breast cancer and, one day, defeat this terrible, terrible disease."