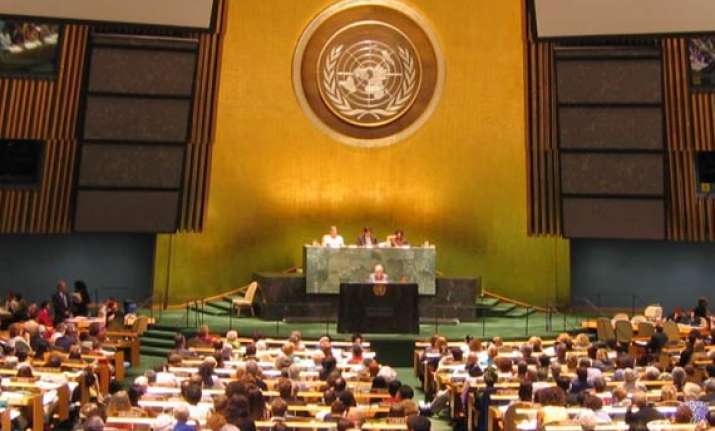 United Nations, Nov 19: The UN General Assembly has overwhelmingly approved a resolution condemning an alleged plot, blamed by the US on elements in Iranian establishment, to assassinate Saudi envoy to Washington and asked Tehran to cooperate in the probe, a voting from which India abstained.

The 193-member Assembly adopted a Saudi-drafted resolution that "deplored" the plot to kill Ambassador Adel al-Jubeir in Washington and called on Iran to cooperate with countries trying to bring to justice those who planned, sponsored or attempted to carry it out. 

The resolution did not directly accuse Tehran of carrying out the plot, but it called on Iran "to comply with all of its obligations under international law, including the Convention on the Prevention and Punishment of Crimes against Internationally Protected Persons, particularly with respect to its obligations to provide law enforcement assistance."

It asked Tehran to "cooperate with States seeking to bring to justice all those who participated in the planning, sponsoring, organisation and attempted execution" of the plot.

In explaining India's decision on the resolution on 'Terrorist Attacks on Internationally Protected Persons', New Delhi's Permanent Representative to the UN Hardeep Singh Puri said "we have abstained on the resolution, as its substance deals with a specific case in which we are not in the possession of full facts and the matter is sub-judice."

The resolution received 106 votes in favour and nine votes against, while 40 countries abstained.

A series of proposed amendments from Iran did not obtain a majority and were not adopted.

Puri said India, which itself has been a victim of terrorism for decades, condemns terrorism in all its forms and manifestations.

Having been on the "forefront" of global actions on counter-terrorism, India's "tireless efforts" as Chair of the UN Security Council's Counter-Terrorism Committee have resulted in the UN adopting a 'zero tolerance' approach towards terrorism, Puri said.

"We strongly believe that crimes against diplomatic agents and other internationally-protected persons, jeopardising the safety of these persons, create a serious threat to the maintenance of normal international relations which are necessary for cooperation among States," he said.

India is a State Party to the Convention on the Prevention and Punishment of Crimes against Internationally-Protected Persons, including Diplomatic Agents, of 1973.

Puri said India takes its obligations under this Convention with utmost seriousness and called upon all States parties to comply fully with the provisions of the Convention. 

He also urged all UN member-states to strive for the "strict implementation" of the zero tolerance approach to terrorism.

The US last month charged Manssor Arbabsiar, a 56-year-old naturalised US citizen holding both Iranian and US passports, and Gholam Shakuri, an Iran-based member of Iran's Qods Force, with conspiring in the Saudi envoy assassination plot.

Iran has denied having a hand in the plot saying the US allegations are "fabricated and baseless" and are an "evil plot" by Washington.

The UN General Assembly, in its resolution yesterday, expressed its "deep concern" over the alleged plot against the Saudi envoy.