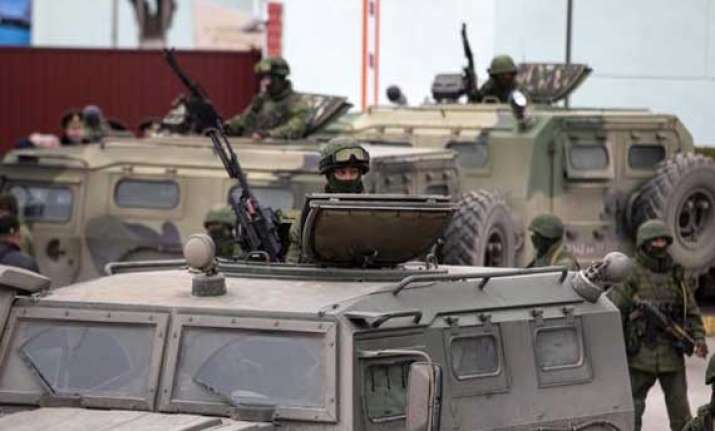 Kiev: Ukraine on Sunday warned it was on the brink of disaster and called up all military reservists after Russia's threat to invade its neighbour drew a sharp rebuke from the United States and NATO.
The dramatic escalation in what threatens to blow up into the worst crisis between Moscow and the West since the Cold War came as pro-Kremlin forces seized control of key government buildings and airports in the predominantly Russian-speaking Crimean peninsula.
Russia's parliament on Saturday  voted to allow President Vladimir Putin to send troops into its western neighbour -- a decision US President Barack Obama swiftly branded a "violation of Ukrainian sovereignty".
And NATO's chief declared that Russia's actions in the former Soviet state were a threat to peace and security in Europe.
Ukraine's new pro-Western Prime Minister Arseniy Yatsenyuk also warned any invasion "would mean war and the end of all relations between the two countries."
"We are on the brink of a disaster," Yatsenyuk told the nation in a televised address. "This is not a threat. This is a declaration of war on my country."
As world leaders held urgent meetings on the crisis, pro-Moscow gunmen were controlling large swathes of the rugged Black Sea peninsula that has housed Kremlin navies since the 18th century.
Witnesses said Russian soldiers had also blocked about 400 Ukrainian marines at their base in the eastern Crimean port city of Feodosiya and were calling on them to surrender and give up their weapons.
The largely untested interim team that took power in Kiev just a week ago braced for Moscow's first possible invasion of a neighbour since a brief 2008 confrontation with Georgia by putting its military on full combat alert yesterday.
Ukraine's national security and defence council said it would call up all reservists and start preparations for a possible invasion from its giant neighbour to the east.
Ukraine says Russia has already sent 30 armoured personnel carriers and 6,000 additional troops into Crimea to help pro-Kremlin militia gain broader independence from Kiev.
Putin said yesterday he had a duty to protect ethnic Russians in Crimea and southeastern swathes of Ukraine which have ancient ties to Moscow and look on Kiev's new pro-EU leaders with disdain.
But NATO chief Anders Fogh Rasmussen, speaking before an emergency meeting of the transatlantic alliance, told Russia to stop its military activity and threats against Ukraine, saying its action threatened "peace and security in Europe".
The US and its Western allies have threatened to boycott the June G8 summit in the Russian Black Sea resort of Sochi.