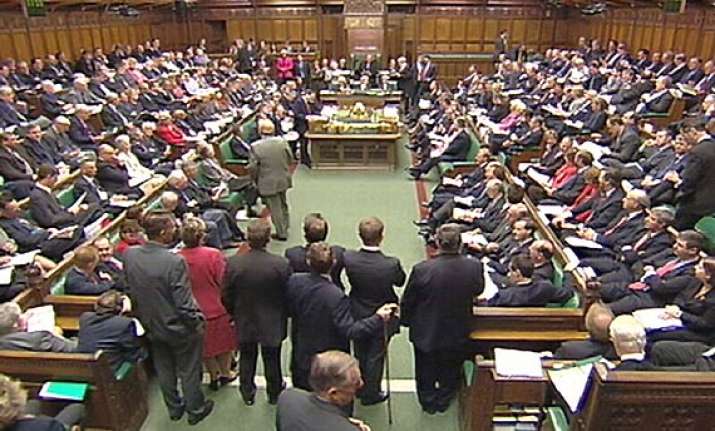 London, Dec 14: The British public will be given the right to recall their local MP if they are found to have engaged in serious wrongdoing under proposals published in a draft Bill in Parliament.

The proposals fulfil a commitment made in the Programme for Government as part of the political reform agenda, official sources here said.

In the draft Bill, the David Cameron Government is proposing to introduce a power of recall, allowing voters to force a by-election where an MP is found to have engaged in serious wrongdoing and having had a petition calling for a by-election signed by 10 per cent of his or her constituents. 

At the last general election the manifestos of all three of the main parties included a commitment to establish a recall mechanism.

Mark Harper, Minister for Political and Constitutional Reform said: "This is an important part of the Government's programme of measures designed to help restore trust in our political system".

He added: "If an MP has been found to have engaged in serious wrongdoing, they should not be able to retain their seat with impunity until the next general election. 

"Our proposals would allow constituents to decide whether or not an MP should retain their seat".  Harper said it his government's intention is to establish a recall mechanism which is transparent, robust and fair. 

The draft Bill is being published for pre-legislative scrutiny and sets out two triggers for a recall petition: first, where an MP is convicted in the UK of an offence and receives a custodial sentence of 12 months or less, and secondly where the House of Commons resolves, through a vote by MPs, that a recall petition should be opened. 

The first trigger will close a gap in the existing legislation whereby MPs are only disqualified if they receive a custodial sentence of more than 12 months.  The second trigger is an additional disciplinary power for the House of Commons, which for the first time allows constituents to have their say in deciding whether their MP should stay in office.

The petition will be administered by the local returning officer and will be open for a period of 8 weeks.  If 10 per cent of eligible constituents sign the petition, the MP's seat will be vacated and a by-election will be held. 

Calls for tougher sanctions for MPs arose after the 2009 expenses scandal and all three main Westminster parties backed some form of recall proposal in their 2010 election manifestos.

At the moment, MPs convicted of an offence carrying a custodial sentence of more than a year are automatically disqualified from office and have to resign.  However this does not apply to anyone given sentences of a year or less who, theoretically, can remain in Parliament.