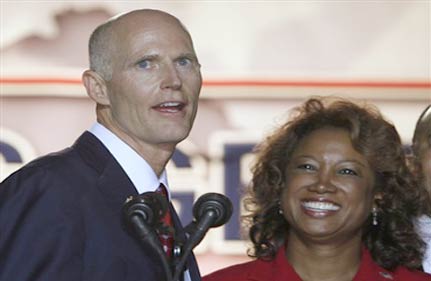 Washington, Nov 3 : Dealing a body blow to President Barack Obama, US voters frustrated over his economic policies today delivered a stunning defeat to his Democratic Party handing control of the House of Representatives to opposition Republicans, who also made big gains in the powerful Senate.
Days before his maiden visit to India, Obama tasted defeat at the the US mid-term polls, seen as a referendum on his economic policies, that had promised recovery to the recession-hit American economy.
The Democrats managed to maintain their hold in the Senate but with reduced majority.
Millions of Americans voted yesterday for all the 435 seats in the House of Representatives; 37 of the 100 Senate seats, 37 State Governors, besides a large number of State and local elections.
In the House of Representatives, the Democratic Party, before the polls, had 235 seats, while the Republicans had 178, with two vacancies. In the 100-member Senate, the Democrats had 59 seats, while the Republicans had 41.
While many results of the polls were still awaited, the Republicans were projected to get 230 seats in the House of Representatives, a gain of as many as 57 seats; while Democrats' tally was projected to reduce drastically to 164.
In the 100-seat Senate, the Democrats managed to retain control with 51 seats, with Republicans closing the gap with 46 seats as they gained six Senate seats from the Democrats.
In the elections held for governorship in 37 States, Democrats could win 14, losing nine of them; while the Republicans entered the Governor's mansions in 27 States, including in South Carolina where Indian-American Nikki Haley emerged victorious, gaining eight States.
38-year-old Haley scripted history by becoming only the second person of Indian-origin to be a Governor of an American state after Bobby Jindal of Louisiana. Haley received 52 per cent of votes against her Democratic rival Vincent Sheehan who polled 46 per cent. PTI