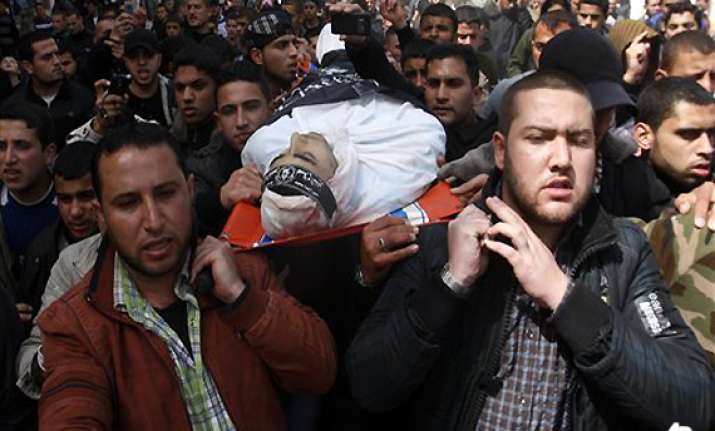 Gaza City, Mar 12: Israel's air force pounded Gaza overnight with a series of raids which killed three people, raising the death toll to 21 as the bloodshed entered its fourth day.

Israeli Prime Minister Benjamin Netanyahu has vowed to continue targeting rocket-firing militants for "as long as necessary" and since midnight, the air force has carried out at least eight air strikes, leaving three dead and 41 wounded, Palestinian medical sources said.

Two of the victims were killed shortly after dawn in separate raids around the southern city of Khan Yunis, which also left two injured.

And shortly afterwards, a 15-year-old boy was killed and six other school children injured in what medics said was another air strike near the northern town of Beit Lahiya.

The killings brought to 21 the death toll from a weekend of tit-for-tat violence that began with Israel's killing of a senior militant on Friday afternoon.

Adham Abu Selmiya, spokesman for the Gaza emergency services, said 73 people had been injured since the bloodshed began on Friday, and that Israel had carried out 36 air strikes on the territory.

He named the latest victim as Nayef Qarmut saying he was on his way to school when he was killed in a drone strike in Beit Lahiya.

"A drone strike hit a group of students who were walking by empty land on their way to school," he told AFP, saying six others had been injured, two of whom were in critical condition.

The two killed earlier around Khan Yunis were Islamic Jihad militants, Raafat Abu Eid and Hamada Suleiman Abu Mutlaq, both of them 24 years old, the group said.