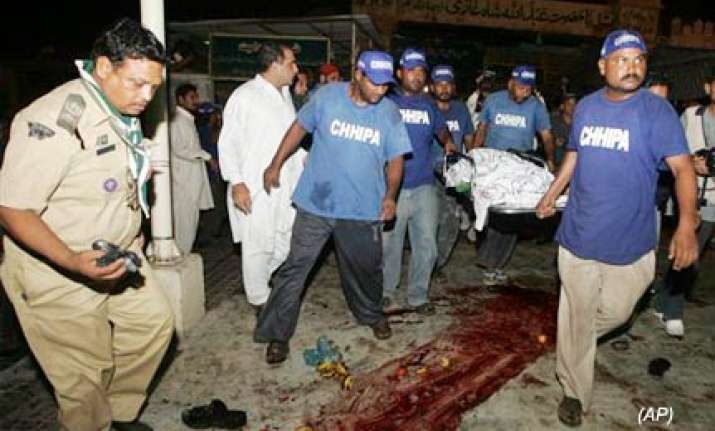 Karachi, Oct 7: Two Taliban suicide bombers today struck venerated Sufi shrine of Abdullah Shah Ghazi in this Pakistani port city, killing at least 10 people and wounding 60 others in the latest in a slew of attacks on sacred places. 
The blasts occurred this evening in quick succession at the entrance of the packed shrine of Abdullah Shah Ghazi, considered to be patron saint of Karachi and is revered by millions of people. 
Express News channel reported that Taliban claimed responsibility for the attack. 
The shrine located in the upmarket area of Clifton in this Pakistan's financial capital was packed with thousands of devotees, who had gathered on Thursday, considered an auspicious day, to offer prayers and distribute langar (food). 
"Until now we have reports of 10 casualties and around 60 people have been wounded and shifted to hospitals in these suicide attacks," Home Minister of Sindh province Zulfiqar Ali Mirza told the media outside the shrine. 
"They were suicide attacks. One of the bombers was stopped at the outer gate and blew himself up while another managed to run through to the inner entrance where security staff overpowered him but he blew himself up," he said. 
Two heads, believed to be of the bombers, have been recovered from the blasts site where severed limbs and human flesh littered the ground, he said. 
Mirza said that since the suicide attacks at the Data Darbar shrine in Lahore in July security had been beefed up at the Abdullah Shah shrine as well and the suicide bombers were intercepted at the walk through gates but blew themselves up. 
Simi Jamali, the medical superintendent of Jinnah Hospital, told reporters that they had admitted over 50 people and several of the injured were in a critical condition. 
"The casualties could rise because the rescue services are still bringing in the wounded and injured," she said.
Doctors said women and children were among the injured.  The shrine was evacuated after the blasts and authorities ordered the closure of all shrines in Karachi as a precautionary measure.
The blasts sparked sporadic incidents of violence that left at least seven injured across Karachi. 
President Asif Ali Zardari and Prime Minister Yousuf Raza Gilani condemned the blasts at the shrine. 
Zardari said such acts of terrorism cannot dent the government's resolve to fight terrorism and militancy to the end. The attack on a religious site clearly shows that terrorists have no respect or consideration for any religion and faith, he said. 
"Such heinous acts of violence are a reflection of deranged minds of terrorists who have no regard for humanity. These elements do not believe in any religion and only want to create disruption in society," Gilani said in a statement. 
Gilani directed law enforcement agencies to probe the incident and submit a report to him.  The Sunni Tehrik called for three days of mourning while Muttahida Qaumi Movement announced one day of mourning. 
Karachi has been the target of suicide attacks in recent times. In December last year and February this year, suicide bombers targeted Shia Muslim processions in separate incidents here in which over 70 people were killed. PTI