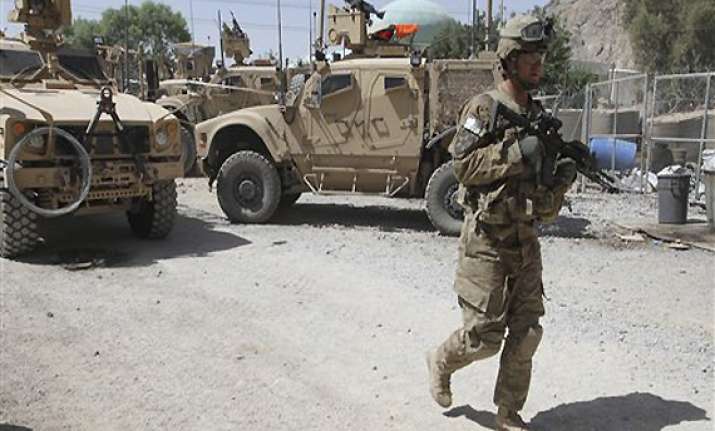 Gardez (Afghanistan), Jun 20: A suicide bomber on a motorbike struck a joint Afghan-NATO patrol in the town of Khost today, killing 17 Afghans and causing coalition casualties, officials said.
The blast in the eastern town close to the border with Pakistan, where Taliban and other Islamist insurgents fighting US-led troops have strongholds, also wounded 37 people, hospital officials said.
There was no immediate claim of responsibility but interior ministry spokesman Sediq Sediqqi blamed the "enemies of Afghanistan", a phrase commonly used by Afghan officials to refer to the Taliban.
The Taliban, leading a 10-year insurgency against President Hamid Karzai's western-backed government, have begun the annual fighting season with a series of attacks which saw US Defence Secretary Leon Panetta admit that violence was rising.
Sediqqi said today's blast was aimed at a combined Afghan and coalition patrol passing through Khost.  It is the second significant attack on NATO forces this month in the town, after a suicide truck bomber targeted a US-run base on June 1, sparking clashes that left up to 15 people dead.
US media reported that more than 100 American troops were treated for injuries after that blast.
Amir Padsha, the director of Khost city hospital said 11 dead had been brought to his hospital, including three police officers and eight civilians, along with 17 wounded.  
Babri Gul, the head of the Babri Gul private hospital in Khost, said he had received six bodies, including four members of the same family, and 20 wounded.
Major Martyn Crighton, a spokesman for the International Security Assistance Force (ISAF) confirmed the attack targeted coalition and Afghan forces.
He said it "caused some ISAF casualties", but was unable to say whether the troops were dead or wounded.