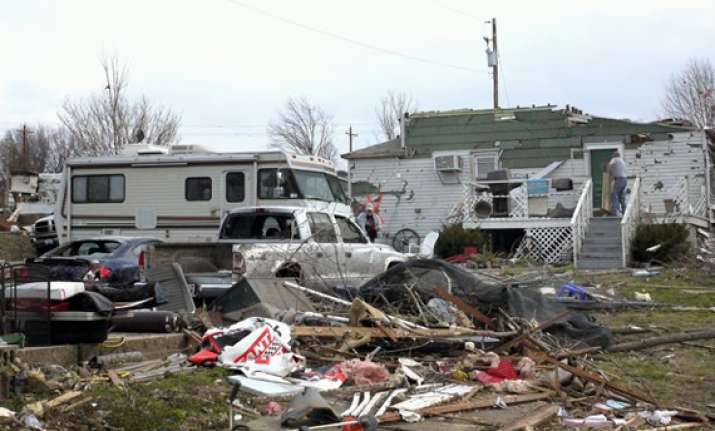 Chicago, March 3: At least six people were killed and one small town was "gone" as more than six dozen tornados tore across the central United States.

Five other deaths were reported, but have not yet been officially confirmed.

The latest wave of storms comes after a string of twisters killed 13 people earlier in the week.

Homes were flattened, schools and businesses were smashed, and cars, trucks and trees were tossed aside like candy as deadly funnel clouds descended on five states.

The National Weather Service had received 74 reports of tornados in seven states by Friday evening, bringing the week's total to 126, though not all were confirmed.

More could be on their way as a "particularly dangerous" tornado watch was set to continue until early Saturday in four states.

"This is a particularly dangerous situation," the NSW warned.

"Destructive tornados, large hail to 6.4 centimetres, thunderstorm wind gusts to 112 kilometres per hour and dangerous lightening are possible."

Officials in Clark County, Indiana were scrambling to deal with widespread damage from the storm after roads were blocked by fallen trees and debris and power and phone lines were knocked out.

"The reports on the telephone were that Marysville is gone," said Major Chuck Adams, the sheriff department spokesman, said of a small town near the Tennessee border.

"I can't confirm any damage right there yet -- we're just trying to concentrate on the more populated areas and we've been inundated with calls."