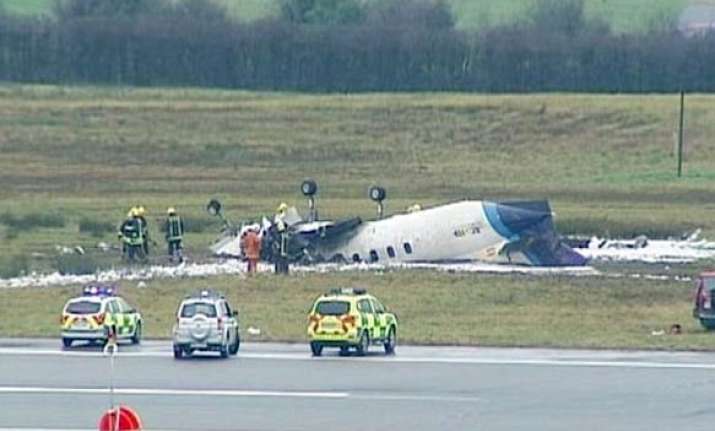 Dublin, Feb 10: At least six people were killed when a small commuter aircraft carrying 12 people crashed today while trying to land in heavy fog at Cork Airport in southwest Ireland, overturning and catching fire on the runway, Irish authorities said.
Cork County Council, which oversees emergency services, said six people were killed and six others injured. It said two passengers had to be cut from the wreckage, and all six survivors, among them passengers with severe burns, were at Cork University Hospital.
The Irish Aviation Authority responsible for running the airport said the aircraft, a turboprop operated by Isle of Man-based airline Manx2.com, made at least two attempts to land before crashing. It had been travelling from Belfast, Northern Ireland.
"There is a fire and debris has been scattered onto the runway and over a wide area," said authority spokesman Martin Towey.
He said the aircraft was a Fairchild Metroliner, an 18-seat turboprop aircraft manufactured in San Antonio, Texas, in 1992. It was carrying 10 passengers and two crew members.
Cork Airport's runway has been closed and all incoming flights are being diverted to Shannon, the larger airport in southwest Ireland.
The Catholic bishop of Cork, John Buckley, comforted relatives of the dead and injured who had been in the terminalat the time of the crash.  Buckley said he "offered them the prayers of all Irish people at this sad time."
Manx2.com was founded in 2006 and operates flights linking Ireland, Britain and the Isle of Man. It opened the Belfast-Cork route six months ago.
Today's crash was the deadliest in Irish aviation since 1968, when an Aer Lingus flight from Cork to London crashed into the Irish Sea, killing all 61 on board. AP