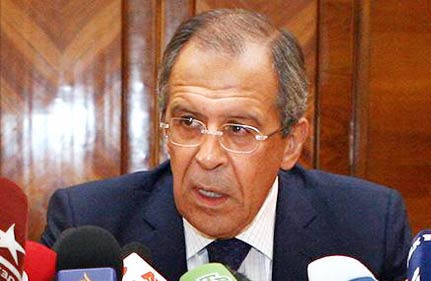 New Delhi, Nov 29: In a clear support to India's position on Pakistan, Russia today said any compromise on terrorism while normalizing bilateral ties would be "inadmissible" and asked Islamabad to stop infiltration to neighbouring countries.
Russian Foreign Minister Sergei Lavrov, who held talks with External Affairs Minister S M Krishna on a range of issues including the regional situation, said his country appreciated efforts being made by India and Pakistan to normalize bilateral ties.
"We welcome the position of the two countries to build up ties and solve some problems together. But we think that anything that involves compromise when it comes to terrorism is inadmissible and this is our final position," Lavrov said at a joint press conference with Krishna.
Lavrov, while responding to a question, said Russia favoured gradual settlement of issues between India and Pakistan and the presence of both the countries as observers in multi-lateral bodies like the Shanghai Cooperation Organisation (SCO) would help in this direction.
"Our position is that relations between Delhi and Islamabad should be settled gradually and this also will settle one day... I am glad Delhi and Islamabad both are observers (in SCO) and this will be conducive to settlement," he said, speaking through an interpreter.
Lavrov said Russia, along with the international community, would back Pakistan in its efforts to eradicate hotbeds of terrorism on its soil, to eradicate terrorism in the neighbouring countries and to stop infiltration of terrorism from Pakistan to neighbouring countries.
"We are absolutely supportive of this," he said.
On Russia's relations with Pakistan, Lavrov said it was their endeavour to involve its neighbours in collective work and ensure that they do not end up in isolation.
"We believe our contacts with the Pakistani leadership are normal because any normal countru will try to deal with everyone surrounding them and involve them in collective work, he said.
"The alternative to collective work is isolation and when isolation comes, you see a deadlock like in Iraq and the Middle East and we do not want that to happen," Lavrov said. PTI