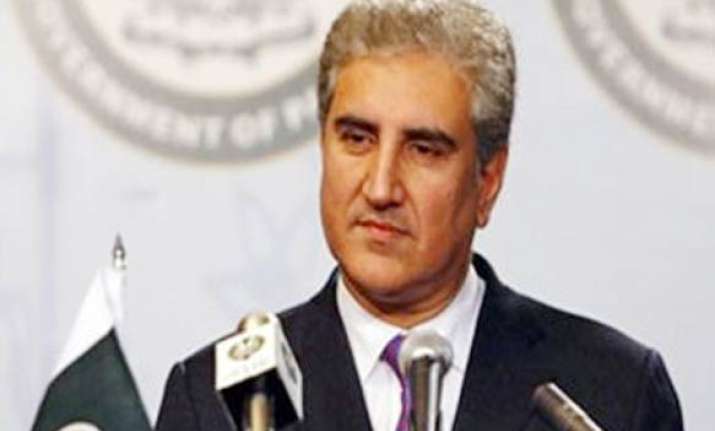 Islamabad, Feb 11:  Pakistan foreign minister Makhdoom Shah Mehmood Qureshi was dropped in the cabinet reshuffle by Prime Minister Yousuf Raza Gilani on Friday.  
Qureshi, who served as Pakistan's foreign minister since 2008 could not make his way into the new cabinet that was sworn in on Friday.  
Qureshi has been excluded from the federal cabinet at a time when Islamabad and New Delhi announced resuming the bilateral dialogue that had fallen victim to the 2008 Mumbai attack.  
The decision appears to be a major setback for the government as President Asif Ali Zardari is set to visit the United States and Qureshi himself was scheduled to travel to Washington to attend the tripartite meeting with the US and Afghan foreign ministers.  
According to sources, Qureshi was offered a ministry of food, agriculture and livestock in the new cabinet but he refused to accept it. State television had earlier reported that Shah Mehmood Qureshi would take oath in the new cabinet but he was not among those who were administered oath by President Asif Ali Zardari.  
A new minister in the cabinet  said, a chair was placed for Qureshi in the hall where the oath taking ceremony took place but it was removed after he refused to attend the event.  
The ruling Pakistan Peoples Party (PPP) was under tremendous pressure from the opposition party PML-N and the International Monetary Fund to cut the size of ministers, to reduce the burden on national exchequer.  
A reduction in the size of the cabinet was also required under the 18th amendment to the constitution, which stipulates it should be no larger than 11 percent of parliament, which would be a maximum of 49 members.  
On Wednesday, the 60-plus cabinet gave its resignation to Prime Minister Yousaf Raza Gilani in pursuance of the last week decision by the central executive committee (CEC) of the ruling PPP to cut down the size of the cabinet.  
Other prominent faces that were holding important portfolios in the previous cabinet but not part of the new one include former information minister Qamar uz Zaman Qaira and minister for water and power Raja Parvez Ashraf.
A group of 22 ministers, most of them former members of the cabinet, took oath in the new cabinet. Prime Minister Syed Yousuf Raza Gilani and other dignitaries were also present during the oath taking ceremony at the Presidency.  
Rehman Malik, Babar Awan, Abdul Hafeez Shaikh, Chaudhary Ahmed Mukhtar, Ghulam Ahmed Bilour, Mian Manzoor Watto, Makhdoom Amin Fahim, Firdos Ashiq Awan, Arbab Alamgir, Khursheed Shah and Makhdoom Shahbuddin were the ministers retained from the old cabinet. Hina Rabbai Khar took the oath of State Minister.