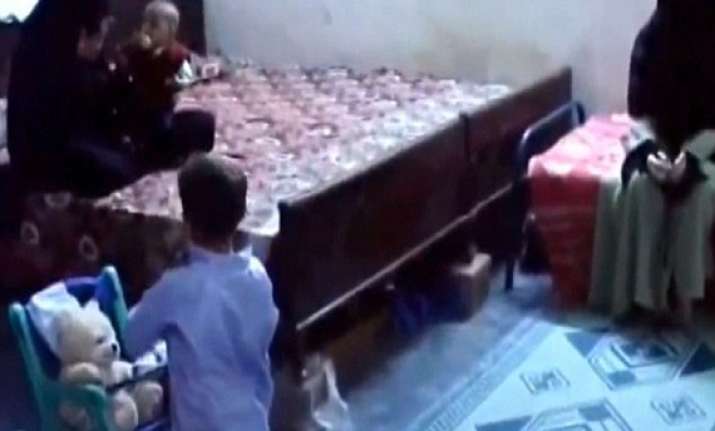 London, Apr 11:
Arabic news channel Al Arabiya television network has claimed to have obtained footage of the 'guest house' in Islamabad, where  slain Al Qaeda chief Osama bin Laden's wives and children have been kept under custody, Daily Mail  reported.
The wives and children have been locked up in the guest house for almost a year  since the US Navy Seals killed Osama in May last year.
The video shows children playing with teddy bears and cricket bats, while the three widows of the former terrorist leader look on or read the Holy Koran.
But the boarded-up windows and a heavy armed presence outside indicate that while the place may serve as a home for the occupants, it is certainly a prison.
Three of  bin Laden's widows and two daughters have been held  in custody since May last.  The wives and children were all living with Osama, when his base was raided by US Navy Seals.
The family of the former terrorist leader are now serving 45-day sentences for illegally entering Pakistan, but in reality they have been locked up since last May.
Pakistani authorities formally arrested the women on March 3 and they will serve another two weeks behind bars before they are deported to their homelands along with the family's younger children, said their lawyer, Mohammed Amir Khalil.
Two of the widows are Saudi and one is Yemeni.
Khalil said Yemen has consented to the woman being returned, but he is still in discussion with Saudi officials.
Saudi Arabia stripped Bin Laden of his citizenship in 1994 because of his verbal attacks against the Saudi royal family.
As well as being jailed, the five women were also ordered to pay a fine of about £70 each. The lawyer does not plan to appeal the court's ruling.
Yemen-born Amal Al-Sadeh, the youngest widow, and her four children were among 16 people detained by Pakistani authorities after the raid, which also included two other wives.
After leaving Afghanistan, Bin Laden lived in five safe houses over the course of nine years while on the run in Pakistan and fathered four children - two of them born in government hospitals, according to al-Sada's interrogation report.
Al-Sada's account says she flew to Pakistan in 2000 and traveled to Afghanistan where she married Bin Laden before the September 11 attacks.
After that, the family 'scattered' and she traveled to Karachi in Pakistan. She later met up with Bin Laden in Peshawar and then moved to the Swat Valley, where they lived in two houses.
They moved one more time before settling in Abbottabad in 2005.
According to the report, al-Sada said that two of her children were born in government hospitals, but that she stayed only 'two or three hours' in the clinics on both occasions. The charge sheet against the three women says that they gave officials fake identities.